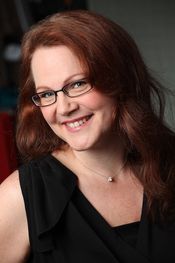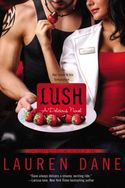 Have you seen the new book by Lauren Dane? LUSH is the third book in the Delicious series, about a group of friends and their sexual adventures. Set in Bainbridge Island, Washington, you get to meet each of them and their lovers.
Our review of LUSH
Bon appétit, readers! Lauren Dane has delivered yet another sizzling installment in the Delicious series. LUSH is an exquisite blend of sweet and sexy, making it a dessert that readers will devour!
Mary Hurley is a busy body. With running her catering business, she hardly has any time to indulge in things like relationships. However, at her friend's engagement party, she meets Damien Hurley, a rock star who has all the right moves. Their chemistry is explosive and Dane heavily explores that chemistry in a series of trysts that are super nova hot!
It was so easy to fall for a hero like Damien Hurley. He's got the looks and the swagger of a rock star, but isn't cocky or arrogant. But perhaps the sexiest thing about Damien is his willingness to pursue something more with Mary. His life has been pretty fast and furious, but Damien wishes for something more solid in his life. He wants Mary. As they try to test the waters to see how compatible they would be in a relationship, they soon realize that they can't live without each other.
As it is the third book in the series and several past characters make frequent appearances, I would suggest readers start from the beginning of the series if they haven't already. Dane is known for her family or friend oriented series and the Delicious series follows the same recipe.
I blazed through LUSH quickly. With free-flowing writing, a dash of sweetness and a heady dose of sexiness, you've got a book that will please readers with its refreshing take on "a yummy hero".
iTunes | Amazon/Kindle | BN.com | Kobo
Mary Whaley has her hands full running a successful catering company and overseeing her supper club. She has everything she ever wanted—or so she thought. When she meets ridiculously hot and very dirty rock star Damien Hurley at her friend's engagement party, the attraction she feels is overpowering—and she isn't about to deny herself.
Damien is used to a hard and fast life. He and two of his brothers started a band when they were fresh out of high school—then they hit the big time and stayed there. He's also a legendary madman on the stage and in the bedroom. But when he meets Mary, something clicks, and the bad boy starts thinking he may have finally found something good.
What begins as a series of fleeting trysts soon gets much more complicated. Damien can't figure out why Mary doesn't want more from him. And before long, it's Damien who wants more from Mary. But it turns out Mary is no stranger to celebrity news, and he's got a very big job ahead of him: proving that he's worth more than a one-night stand…
To comment on Lauren Dane's blog please click here.