Fresh Fiction Senior Reviewer Debbie Wiley
Hi Lauren! Thank you for joining us today at Fresh Fiction! I love cozy mysteries, especially ones centered around a bookstore so MURDER IN THE FIRST EDITION is a real treat for me to read. Can you tell our readers a little something about the storyline and the inspiration behind it?
Hi, thank you for inviting me. It's a pleasure to be here. The inspiration behind my Beyond the Page Bookstore Mystery series came to me a number of years ago. I had a good friend who owned a small used bookshop and being the book lover I am. It became my second home.  Her shop was my vision of the perfect bookstore–old and rare books, a reading corner, charming knick-knacks, and a bay window display that she decorated to highlight the season and one that never failed to attract passersby.
 When I had more time to devote to writing, my old reading friend, Agatha Christie emerged, and the first image that came to mind was my real-life friend Maggie and her bookshop. From there, Addie's was born. Even though, Beyond the Page Books & Curios is an expanded version of my friends, it's one that I hope, through my writing, reflects the same feeling to readers as Maggie's did to her customers. Which, is an environment where you want to browse, stay and in general, enjoy the ambiance of comfy reading chairs along with the aroma of fresh-brewed coffee niggling at your nose–a place that feels like home away from home. . . well, except perhaps for the murder and mayhem surrounding Addie's bookstore.
 All the stories in the series are set in Massachusetts. I chose it because it's a state rich with history and culture. It seemed the ideal location in which to base Addie's bookstore because the area lends itself to a wide range of possible story plots. For example, the second book in the series, PROLOGUE TO MURDER, has references to pirate legends and buried treasure. So, if you love stories that are centered on bookstores and rare books, then you're going to enjoy following the adventures of Addie, her best friend Serena–the local tea merchant, plus the rest of the colorful characters in the quaint seaside town of Greyborne Harbor where murder and mystery are not. . . uncommon.
Each book in the Beyond the Page Bookstore Mystery series centers around a book. In MURDER IN THE FIRST EDITION, the book in question is a rare Charles Dickens book. How do you go about selecting which book will be part of the story's theme?
I might do things backwards to the way some writers would, in the sense that I develop the book's premise first then do an extensive search to find a classic novel that will fit with the storyline I have in mind. This research takes hours and hours to accomplish. There are a number of factors I have to consider. First, I have to make sure the book is out of US copyright. A good example would be–I would love to use GONE WITH THE WIND as a featured book, but it doesn't come out of US copyright until 2031, so I can't use it.
When I find a book that will fit with my premise, I then have to research the value, the various conditions available, photos of the cover, title page, type of paper it was printed on, the number of books published in the first edition run. Whether they are numbered or signed by the author or illustrator. Suffice to say. By the time I'm finished my book search and following research. I have an entire file folder of information regarding the book that will be featured in the story.
And to follow up on the prior question, what's the most fascinating or unusual thing you've learned from that research, either on Dickens' A CHRISTMAS CAROL or on Sherlock Holmes from your upcoming book, PROOF OF MURDER?
I discovered that since A CHRISTMAS CAROL was released in December 1843 it revolutionized Christmas in its time and inspired many of the holiday traditions we still follow today. When Dickens penned A CHRISTMAS CAROL, it was a bleak period in Victorian history. Great Britain was undergoing an industrial revolution, and the church had deemed many of the old long-held seasonal celebrations as pagan rituals. Work houses were plentiful and so was poverty. Dickens lamented over the loss of long-standing celebrations that once existed and yearned for those lost times. In writing his book, he brought back the memories of forgotten customs like Christmas caroling in the streets, feasting, dancing, party games, but most importantly to him, spending time with loved ones and friends. Dickens also pointed out the importance of remembering those less fortunate and helping others through charitable donations, especially during the holidays. Even the expression and custom of wishing others a "Merry Christmas" can be traced back to the famous story of Ebenezer Scrooge. Through my research, I discovered that Charles Dickens story inspired several other traditions of Christmas that we still follow to this day.
 Addie Greyborne has dealt with a lot in her life already, but I love her grit and determination. What are your favorite character traits about her? 
I think it was Bob Marley that said: "You never realize how strong you are, until being strong is the only choice you have." I think that's my favorite character trait about Addie. She might stumble and fall, but when she has to, she stands tall and doesn't back down.
Using A CHRISTMAS CAROL as the book featured in MURDER IN THE FIRST EDITION is brilliant, particularly as it deals with the ghostly present of the past, present, and future. No ghosts are featured in MURDER IN THE FIRST EDITION, but do you have any ghost stories or other paranormal tales you'd like to share with us?
You're correct in stating that MURDER IN THE FIRST EDITION has no actual ghosts of Christmas past, present and future depicted in it. However, they are referred to from time-to-time in relation to Addie's life. A story that does more than refer to a ghostly presence is PROOF OF MURDER, the fourth book in the series which is scheduled for release in April of 2020. This book centers on a missing rare and very pricey edition of a Sherlock Holmes novel. A rumored haunted house, a body found in a room locked from the inside–and the reader right alongside Addie–will have to determine if she's dealing with a flesh and blood killer or. . . something else?
 You delve into family relationships and the issue of grief quite well in the Beyond the Page Bookstore series. Christmas or other holidays can be difficult in particular. Can you give us some insight into the research and writing process that went into creating Addie's character and her history?
When I write my characters, I attempt to keep them genuine and in touch with the everyday ups and downs we all experience. From the scents that niggle at Addie's nose–keep in mind that scents can stir memories and create a link to our pasts–to the often unsettling emotions that coming face-to-face with her one-time future father-in-law evokes in her. In writing Addie Greyborne's character, I have attempted to keep her real. She has flaws. She can be silly and immature at times. She cries. She gets emotionally confused. She pouts sometimes but overall, Addie behaves exactly like we all do from time-to-time. However, I have also attempted to give her that grit and determination you mentioned earlier as proof to all of us that no matter what personal tragedies we experienced in our lives, if we persevere, we can move forward to overcome them and eventually create a fulfilling life. Albeit, we might still stumble and fall along the way–heaven knows Addie does–but if we don't give up, use our wit and don't stop trying we can be successful in the end. 
If you could invite anyone (living or dead, fictional or real, etc) to a book club meeting at Beyond the Page, who would you invite and why?
That's a tough one. There are so many people who have inspired me in one way or another. However, I would have to say that a dream book club attendee would be either, Sir Arthur Conan Doyle or Agatha Christie. As both are masters of the craft of mystery writing and can provide extensive insight into human character and behavior.      
I'm excited about your next book, PROOF OF MURDER, as it features a Sherlock Holmes book! Any teasers or hints you want to give us about that book?
I gave you a bit of a teaser earlier. So I think I'll just leave you with this. Addie informs Serena that she doesn't believe in haunted houses or ghosts. However, there are a few times throughout the story when Addie questions her convictions and wonders: "But what if the rumors are actually true?"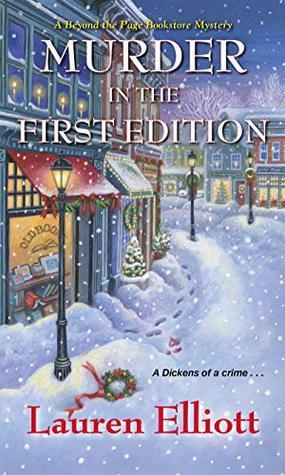 Addie Greyborne is preparing for the holidays at her bookstore in seaside New England–but a winter storm is coming, in more ways than one . . .
Addie's getting into the spirit for the upcoming Charity Auction–especially since she's got an 1843 copy of Charles Dickens's A Christmas Carol to donate. Her former colleagues at the Boston Public Library have confirmed that its worth runs toward the high five figures, which should help with the new pediatric wing. Her mood darkens, though, when a visitor from the past appears–Jonathan Hemingway, the father of her late fiancé. His presence stirs up sad memories for Addie, but also has her fuming when Jonathan, true to his womanizing ways, runs off for a lunchtime liaison with Teresa Lang, who's in charge of the auction.
Soon after, Addie heads to Teresa's office at the hospital–and finds the poor woman's dead body. What she doesn't find is her valuable first edition. What sort of Scrooge would steal from sick children and commit murder in the process? As a Nor'easter bears down and a mystery emerges about Jonathan's past, Addie must find out if she can appraise people's motives and characters as well as she can appraise rare books . . .
Mystery Cozy [Kensington, On Sale: September 24, 2019, Mass Market Paperback / e-Book, ISBN: 9781496720214 / eISBN: 9781496720245]

Did someone commit murder over a Charles Dickens novel?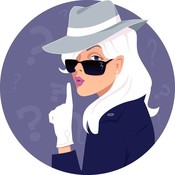 USA Today Best-Selling author Lauren Elliott grew up devouring the entire Nancy Drew series and then graduated to Victoria Holt, Agatha Christie, Barbara Erskine, Lynn Kurland, and Michael Crichton to name a few of her favorite authors. When it came time for post-secondary education, journalism seemed like the logical choice as she had written for as long as she could remember. Soon after graduation, while working for a small publication, she discovered that reporting wasn't what fueled her writing passions. As someone with an additionally strong background in professional theatre who had the love of storytelling and captivating and holding an audience, her fiction-writing career began to take center stage.