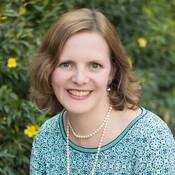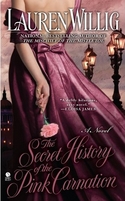 Once upon a time, in a Cambridge far, far away, there was a cranky grad student.  I realize that this isn't necessarily a defining characteristic.  Many grad students are cranky.  Especially those who have lived through a Cambridge winter, where the ice lies slick on the cobbles, just lying in wait for the unwary academic trudging out of Widener Library with a large pile of books.  Large piles of books make loud splatting noises when they fall into puddles.  So, for that matter, do grad students.
But I digress.  This cranky grad student was in pursuit of a PhD in English history, but she kept stubbing her toes on footnotes along the way.  She—okay, okay, I—decided to do something to remind myself of why I loved history.  What better way to do so than to write a historical romance novel?
It would be, as the historian and historical novelist George MacDonald Fraser put it, not history as it was, but history as it should have been.  History with all the good bits.  History as we like to imagine it.  History full of swashbuckling and knee breeches and men in black masks who raise their quizzing glasses just so and drawl out witty quips just as they run their rapiers through the unfortunate coat of the appropriately floundering villain.  I wanted to write something with mistaken identities, frolicsome sheep, heaving bosoms, and villainous Frenchmen—what better fodder than the intrigue and skullduggery of the Napoleonic Wars?
Despite myself, a little more grad school had sunk into my soul than I had realized.  Instead of writing the pure historical romp I had intended, I found myself with a modern framing character, a disgruntled Harvard grad student in pursuit of her dissertation. (Nope, nothing autobiographical going on here, folks!)  Baroness Orczy, the author of the SCARLET PIMPERNEL, once wrote that Sir Percy Blakeney appeared to her on a Tube platform.  I met Eloise when a picture of her popped into my head, a bedraggled redhead in a tweed skirt and high-heeled boots, clinging to a Tube strap and trying not to fall into the lap of the man sitting in front of her.
One of the revelations that most distressed me in grad school was the discovery that history, far from being an absolute, changes based on the perceptions of every succeeding generation.  Our sense of what history was, how it felt and smelled and tasted, is mediated by the assumptions and expectations of our own era, no matter how hard we try to stay faithful to the evidence at hand.
In THE SECRET HISTORY OF THE PINK CARNATION, it's Eloise's discovery of a cache of private family papers that launches her—and us—back two hundred years, into the secret history of that most elusive of spies, the Pink Carnation.  By using Eloise as the lens through which the historical story is refracted, I gave myself free rein to write history as we, twenty-first century readers, would perceive it.  Like historians before her, Eloise translates historical events into her own idiom—which also gave me an excellent excuse to use lines like, "Drop the thumbscrews and step away from my son!" and "Follow that sedan chair!"  There's also the Cosmopolitan Ladies' Book, with TEN TRICKS TO A FLIRTIER FAN! If such a publication didn't exist, it should have.
My other intention in including two time periods in one book was to highlight another of my grad school hobby horses: the commonalities that persist across the centuries, despite changes in costume and custom.  During my grad school years, I spent a lot of time, like Eloise, buried in piles of old documents.  The thing that struck me?  How little has changed.  Human nature remains fundamentally the same, whether we're torturing ourselves with corsets or Jimmy Choo boots.  One of my favorite examples is the Paston Letters, a series of correspondence from the Wars of the Roses, in which a teenage boy writes home from boarding school because his favorite tunic needs washing and he's short of funds (which sounded eerily like my brother's calls home from boarding school), and a grown daughter fumes to her brother that if she has to spend one more day in the same kitchen with her mother, one of them isn't going to make it out alive.  Haven't we all been there?
I never did finish that dissertation, but writing historical romance has provided me a passport to places I had never dreamed I would venture, well beyond the reach of a Cambridge winter.  I've followed the Pink Carnation books from Napoleon's Tuileries Palace to Almack's Assembly Rooms, from the back streets of nineteenth century Dublin to the subterranean caverns of the Hellfire Club, from George III's private quarters to Jane Austen's Bath, and even all the way to colonial India.  I try to tell a story that, as George MacDonald Fraser advised, stays true in spirit, if not in fact (that's what historical notes are for!).  It may not be history as it was, but it is history as it should be.
The best part?  No footnotes!