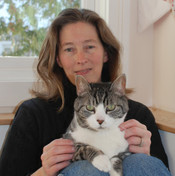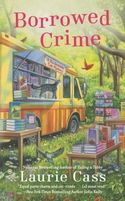 There are probably as many weird writer habits as there are writers. Well, more than that, really, because I know I have more than one weird habit and though I'm willing to bet everyone else does, too, we don't have time to go into all of them, interesting as that might be. But we can make an effort, yes?
This particular author's weirdnesses start with sitting in the car with my laptop to write because that's the only place where I won't be interrupted. And then there are the times I stare off into space with a completely blank look on my face because what's going on inside my head is a lot more real than what's going on in front of me.
My long suffering husband has grown so accustomed to this look that he can diagnose it in half a second. Sadly, it's not uncommon for this to happen when we're out for dinner with friends. I'll see and hear things going on around me but they don't sink into my brain because my brain is suddenly busy with working out a plotting problem. Someone will ask me, "Are you okay? You look a little funny," and my husband will reply, "She'll be back in a minute. She's writing inside her head."
Another weird thing is what I take away from reading the newspaper. Not so much the front page, because those articles are usually complete stories with all the questions answered, but the short things. The tidbits that leave you with a lot of questions. The reports from 911, the local law enforcement reports, and sometimes the obituaries. Why did someone break into a house and steal only the microwave and not the television? How did that person's life start in England and end in a small town in northern Michigan? These are the things that can start a plot in a writer's head, or at least start an idea that leads to another idea that ends up as part of a plot.
My memo pad is another odd writer thing. I carry a 3" x 5" spiral memo pad with me at all times and every day for the last umpteen years, I've written up a page. I started doing this way back before I was anywhere close to being published, hoping that the act of writing at least a little bit every day would make me more of a writer.
I have no idea if that actually worked, but a memo pad is now a part of my life and I would feel bereft without it. Sometimes I write a name that might be great for a future character. Sometimes I write dialogue, sometimes it's a scrap of an idea for whatever book I'm working on, sometimes it's a description of a person, place, or thing that just aches to be written down.
Every so often, though, I realize that it's time for bed and I haven't written a single thing in my memo pad. When that happens, I sit and think for a minute, then jot down a few thoughts or descriptions or impressions of whatever comes to mind. It doesn't matter much what it is, as long as I fill the page with writing.
Because, in the end, that's the most blatant, unashamed, and deliberate of all writer habits.
We write.
About BORROWED CRIME
Librarian Minnie Hamilton spreads the joy of reading throughout Chilson, Michigan, with her bookmobile, but she doesn't ride alone. Her rescue cat, Eddie, and a group of volunteers are always on board to deliver cheer—until one of her helpers gets checked out for good…
When Minnie loses a grant that was supposed to keep the bookmobile running, she's worried her pet project could come to its final page. But she's determined to keep her patrons—and Eddie's fans—happy and well read. She just needs her boss, Stephen to see things her way, and make sure he doesn't see Eddie. The library director doesn't exactly know about the bookmobile's furry co-pilot.
But when a volunteer dies on the bookmobile's route, Minnie finds her traveling library in an even more precarious position. Although the death was originally ruled a hunting accident, a growing stack of clues is pointing towards murder. It's up to Minnie and Eddie to find the killer, and fast—before the best chapter of her life comes to a messy close…
About Laurie Cass
Laurie Cass grew up in Michigan and graduated from college in the 80's with a (mostly unused) degree in geology. She turned to writing in the late nineties. After a number of years in management, she felt the need to move on and took a job with fewer responsibilities. A month later, she was dead bored and began to consider writing as a way to wake up her brain. She started reading a lot of books on writing and happened across a particular sentence: "What's it going to be, reasons or results?"
The phrase practically stuck her in the eye. She printed it out, framed it, and put it next to her computer. "Reasons or results?" At the end of her life, was she going to have a pile of reasons for not having done anything? Or was she going to sit down and write a book? Once she started looking at it that way, the decision was easy. A short 13 years later, her first book was published.
Currently, Laurie and her husband share their house with two cats, the inestimable Eddie and the adorably cute Sinii. When Laurie isn't writing, she's working at her day job, reading, attempting to keep the flowerbeds free of weeds, or doing some variety of skiing. She also write the PTA Mysteries under the name Laura Alden.