Thanks for hosting me on Fresh Fiction's Romantic Suspense Monday, as I celebrate my debut release, SINGLE MALT, Book 1 of the Agents Irish and Whiskey male/male romantic suspense series. AIW features widowed FBI agent and Irish ex-pat, Aidan Talley, who falls hard for handsome, younger Cyber agent, Jameson "Whiskey" Walker, as they investigate cybercrimes and the murder of Aidan's late husband.
While there are plenty of car chases, gunfights and explosions in AIW, there's also a lot of food. I'm a foodie, and a displaced Southerner, and I'd be lying if I said Jamie, a North Carolina native now living in San Francisco, didn't bear some resemblance in those respects. And like me, Southern-boy Jamie's got a hankering for certain foods he just can't get in California.
Jamie's Top Five Southern Food Cravings
North Carolina Barbecue
When Tar Heels say "barbecue," we don't mean meat cooked on a grill. We mean pork, slow-cooked on a smoker, then pulled and chopped. Being from eastern NC, Jamie prefers whole hog style, vinegar sauce (little-to-no ketchup), red slaw, AND ALL THE HUSHPUPPIES (dipped in honey butter). A proper eastern NC barbecue plate right here:
Southern Peaches
While peaches in California are perfectly fine and come in many varieties, they can't hold a candle to a real southern peach. One of life's simplest pleasures is a fresh peach from one of the many roadside stands on HWY 74 or HWY 151/501 on the way to the NC/SC Coast. Sweet, tender, and juicy, you'll never need a knife to eat one of these. And all the peach cobbler, YUM!
Fish Camps
A restaurant, often in the shape of a barn, in which all manner of seafood is served, 95% of it fried. There should be a medic on duty. When pounded and fried is what you're raised on, all of the grilled, smoked, seared, etc. seafood options out west are overwhelming at first. And while we're talking seafood, forever missing Maryland crab cakes, blue crab, and soft shell crab.
Sweet Iced Tea
You may think you've had sweet tea before but until your Southern grandpa makes it for you with 4 cups of sugar per gallon of Lipton tea and serves it to you in a mason jar full of ice, you've never really had sweet tea.
Bojangles'
While their fried chicken is tasty, it's not about that (except on game day, when their tailgate special wins all the awards). It's really about the all-day breakfast biscuits. Scratch-made and filled with Southern favorites – country fried steak, country ham, Cajun chicken, sausage gravy, the list goes on. Plus the Bo-Berry biscuits – blueberry- stuffed biscuits with sweet cream icing. And they sell super sweet tea by the jug!
So, who's hungry now?! I know I am! Grab a copy of SINGLE MALT, OUT NOW, and your favorite snack, because you're only going to get hungrier from here 😉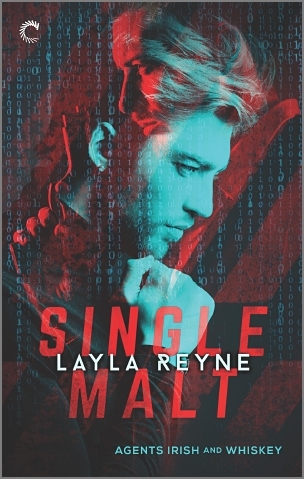 Eight months after the car crash that changed everything, FBI agent Aidan Talley is back at work. New department, new case and a new partner. Smart, athletic and handsome, Jameson Walker is twelve years his junior. Even if Aidan was ready to move on—and he's not—Jamie is off-limits.
Jamie's lusted after Aidan for three years, and the chance to work with San Francisco's top agent directly is too good to pass up. Aidan is prickly—to put it mildly— but a growing cyber threat soon proves Jamie's skills invaluable.
Jamie's talents paint a target on his back, and Aidan is determined to protect him. But with hack after hack threatening a high-security biocontainment facility, time is running out to thwart a deadly terrorist attack. They'll have to filter out distractions, on the case and in their partnership, to identify the real enemy, solve the case and save thousands of lives, including their own.
Suspense | Mystery | Romance Gay [Carina Press, On Sale: February 27, 2017, e-Book, / ]