Living in a small town rocks. Living in a small town set in the South really rocks. I don't live in one now, but I used to and it was awesome. There were some pretty quirky characters and a lot of friendly people.
These people that you may have known all your life can sometimes be a little hard to put up with when the tell-a-friend chain gets going and nothing you do is kept on the down low. You can't get away with anything because you know someone's going to tell your mom or one of your other relatives.
Of course, every town has that one person who hates change because "this is the way it's always been done" and they're resistant to anything that might shake up tradition. Yet, when one of their own suffers any kind of adversity, the townspeople rush to help, settling around you like a warm, comforting blanket of love and support. And you remember that they're always there for you when it counts.
That's why I like setting stories in small towns which is what I did for my newest book WEDDING DATE RESCUE.
I wanted to write a series about firefighters and the issues that can sometimes affect them. I learned that the majority of their calls can be EMT related and seeing people hurt in accidents or worse can take a toll on these brave heroes.
In this first book in the series, the hero, Kent, has faced some adversity of his own and the town is not feeling the love toward the person who hurt him.
More than overcoming his physical injury, he has to overcome the emotional wound so that he's free to love Casey, the woman who's always been there for him.
I hope you all enjoy this friends-to-lovers book.
Fire and Sparks #1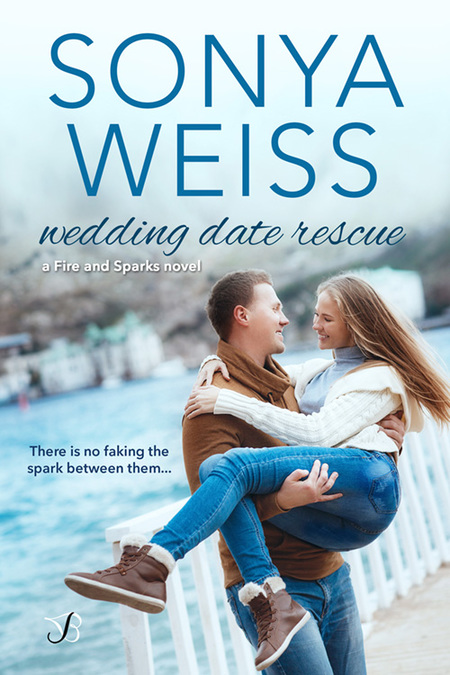 As a Firefighter, Kent Wakefield has been burned before, and not just by fire. So when Casey Bradford, his best friend's off-limits, gorgeous little sister, asks him to be her fake boyfriend, he flat out refuses. He doesn't do relationships, real or otherwise. But when his well-meaning, marriage-pushing mother corners him about his cousin's wedding, he panics and tells her he has a date.
After being left at the altar, Casey is out of options. She needs a boyfriend ASAP or she can kiss her dreams good-bye. Who better than her brother's emotionally-unavailable best friend, Kent. She may have nursed a childhood crush, but this arrangement will be purely platonic…that is until he kisses her and suddenly it gets a lot harder to remember it's all pretend.
Romance Contemporary [Entangled Bliss, On Sale: February 27, 2017, e-Book, ISBN: 9781682814376 / eISBN: 9781633758872]
From the time she was a child, Sonya knew she was destined to be a writer. If she didn't like the ending of a book or movie, she would write her own ending. When her children were young, she often wrote stories to entertain them. At the urging of one of her daughters, she submitted a short story and to her surprise and delight, it sold. Sonya loves writing all things romance whether it's writing contemporary adult or teen fiction and still hasn't lost the wonder that she gets to do what she loves. She enjoys reading, movies, chocolate, and laughter and credits her daughters as being the sweetest blessings in her life.