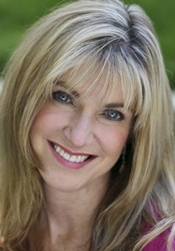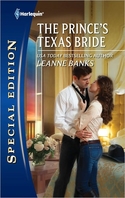 I'm having so much fun writing about my fun and slightly dysfunctional royal family, the Devereaux.  It all began with ROYAL HOLIDAY BABY in November when good girl Princess Valentina had a wild night (just one!) with rancher Zach Logan and ended up pregnant.  Oh, the scandal!  Oh, the bumpy romance when Zach had to learn how to love again.  I'm pleased to tell you that this book was nominated as a Reviewer's Choice Special Edition by Romantic Times BookClub, and is also a finalist for the Award of Excellence and Golden Quill.
After that, it was like potato chips.  One Devereaux just wasn't enough.  In THE PRINCE'S TEXAS BRIDE we have the crown prince Stefan who is accustomed to being obeyed by everyone (except his contrary siblings).  He hires Texan Eve Jackson as royal stable master and would never have expected to fall for such a woman.  For Eve's part, she knows she's not princess material.  She's not the type to curtsey, that's for sure!  So, anything that develops between them (and nothing should!) will have to be temporary.  Right?
Coming June 21 is THE DOCTOR TAKES A PRINCESS.  Princess Bridget has one more mission before she takes a well-earned vacation from royal duties.   Bridget has always been the underestimated Devereaux and she's allowed people to think she's more concerned about clothes and having fun because it suits her.  When her life was saved by her sister-in-law Eve, though, she's had a hard time hanging onto her airy charm.  It gets even worse when she encounters Texas Dr. Ryder McCall.  She needs Ryder's agreement in order to accomplish her last royal assignment, but he's not at all amenable to her plans.  She wishes she could write him off, but he affects her like no other man has, and the fact that he's juggling twin babies he suddenly inherited makes her fall for him even more – which is crazy because she's never been interested in babies before.  I totally love the way Bridget evolves in this story.
So, yes, I'm giving away a book and a tiara headband to one lucky commenter.  Here are my questions:  Have you ever done anything wild?  Did you get away with it?  Or not?  Have you ever been underestimated?  What did you do about it?
Have a GREAT day!!!
X0,
To comment on Leanne Banks's blog please click here.