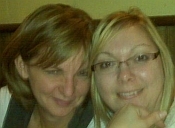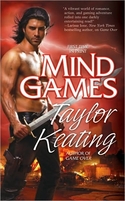 Before I begin, I don't condone stalking in any way, shape or form. So please don't write me.
I don't have it in me to be a good stalker. From what I've determined, it takes way too much focus and effort and I'm basically lazy. But I asked a good friend one time (who happens to be a United Church minister) if plotting an assassination was a bad thing. She told me not at all. Plotting can be therapeutic. Acting on it is what tips the scales.
So stalking is bad.
I do, however, have a list of people I'd stalk if a) it weren't illegal, and b) I wasn't so lazy.
#1. Madeline Hunter.
I love love love Madeline Hunter. I leapt over a blind woman and knocked down a few librarians in order to introduce myself at RWA in Orlando last year. She was very gracious, didn't call hotel security, and I'm hoping has forgotten the entire incident because I'll probably repeat it in New York.
(Although in fairness, that might be crossing over into creepy on my part. My friend the minister might not approve.)
While she seems like a wonderful person, I love Madeline Hunter mostly for her books.  She writes clever dialogue, crafts unique characters, and the plot twists are edge-of-your-seat.
#2. CL Wilson.
I had another fan gurl moment in Orlando with her, and I would like to take this opportunity to publicly thank my editor for the introduction.  I got caught up in Fantasy years ago with the Thieves' World series, but I'm a romance reader at heart. I love fantasy with romantic elements. Ms. Wilson wins, hands down.  LADY OF LIGHT AND SHADOWS—best book ever. I've read it three times.
#3. Larissa Ione.
My sister and I occasionally talk about heroines we'd turn for. So far, Angelina Jolie as Lara Croft is at the top of our list. (This is probably too much information. I know it was for my kids.) But not only does Larissa Ione write inventive stories—an underground demon hospital has to be one of the top ten story concepts of the century—her heroines are totally kick ass and the kind you'd turn for. There's something about the lure of a half-demon woman dressed in skin-tight red leather that can't be ignored. A full-blooded demon couldn't resist her, so why should I?
#4. Kim Harrison.
Again with the leather. And the Hollows has to be another one of the top ten story worlds.
#5. Sherry Thomas.
Anyone who heard her acceptance speech at the Ritas in Orlando last year can understand this one. She was eloquent, obviously committed to being a writer, and very, very funny. The first chance I got, I grabbed one of her books. I'll be grabbing more, but she's relatively new on the historical scene.
She makes me laugh every single time. Her dialogue is the best.
When I look at this list I ask myself what is the common denominator that makes these authors stalkable, and I would have to say voice. Each writer is uniquely individual and the books they write are easily identifiable as their own.  Theirs are characters to care for.
With the release of MIND GAME, our second book in the Guardian Series, it's our hope that we've created a world and characters that are uniquely individual too, and that readers will love River and Hawk every bit as much as we do.
Find them on Facebook and Website and Twitter
To comment on Taylor Keating's blog please click here.