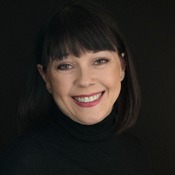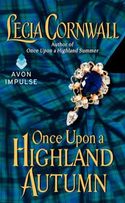 It's release day For ONCE UPON A HIGHLAND AUTUMN!
It's a pleasure to be here at Fresh Fiction to share this day with you.
I also thought I'd share some of my deep, dark writerly secrets today, and tell you a bit about the story behind ONCE UPON A HIGHLAND AUTUMN.
ONCE UPON A HIGHLAND AUTUMN is the second book in the Once Upon A Highland series, which began with Once Upon A Highland Summer. Each book in the series has a different magical theme, an otherworldly, mysterious edge. Highland Summer featured a pair of meddlesome ghosts, who return from the grave to see that their descendants find the love, fortune, and happiness they themselves missed out on.
In ONCE UPON A HIGHLAND AUTUMN, it's Megan MacNabb's turn to be caught up by mysterious forces, this time an ancient curse.
ONCE UPON A HIGHLAND AUTUMN is actually two stories in one. Megan and Kit's love story is interwoven with the tale of how the dreadful curse that lies upon Glen Dorian came to be, a tragic story of love, loss, and war, that is still awaiting an ending when Kit and Megan's story begins, some seventy years later.
Now for one of my secrets: I'm a typical insecure, neurotic, introverted writer. I write half a book, then wail that it must be the very worst thing ever written in the entire history of writing—including grocery lists and misspelled ransom demands. My family has learned to roll their eyes and ignore me after nine books, and nine mid-manuscript panic attacks. By the time I reach the end of the story, I have a good cry (for some reason, no matter how many times I read them, or edit them, the endings of my books inexplicably make me burst into tears), and decide it's really not such a bad story after all.
Writing ONCE UPON A HIGHLAND AUTUMN felt different—I loved the characters from the moment they stepped onto the page. Megan and Kit have incredible chemistry, the atmosphere of the ruined castle is wonderfully spooky and gothic, the secondary characters were charming and quirky and did not try to take over the story for themselves, and Mairi MacIntosh's Culloden story made me cry.
I must admit I've always had a fascination with the Battle of Culloden. It began back in high school, when I saw a documentary about it in history class and cried. I visited Culloden Moor in 2009, and it is the saddest, most somber place I've ever been. I've always wanted to write about the battle and it's tragic aftermath, so I took the make it part of Mairi's story in  ONCE UPON A HIGHLAND AUTUMN
While I was in Scotland, I bought a CD at Culloden (Songs and Voices of the Forty-Five), of Gaelic speakers singing about the battle. I'll admit to sitting in the car listening to those songs, crying my eyes out, while I was working on writing ONCE UPON A HIGHLAND AUTUMN. Oh dear—Please don't get the idea that I cry all the time, dear readers—just at the ending of my books, and over Culloden, and of course PBS's Call The Midwife makes me cry with every single episode, and so does Camelot (yes, the musical). It's just that even though I don't speak Gaelic (alas), the emotion in the songs on the CD is so heartfelt, and knowing what happened to the Highlanders after the battle—well, there were waterworks. I wanted to convey that terrible sense of suffering and loss in my book.
Still, I wanted the story to come to a happy conclusion, even if it's seventy years in the making, and takes a new generation to bring love and peace back to Glen Dorian. Sigh. Nothing beats a happy ending. And now I need another Kleenex …
I hope you love ONCE UPON A HIGHLAND AUTUMN, and that it makes you laugh far more than cry! Let me know what you think—I love hearing from readers. Leave a comment here for a chance to win a copy of the previous book in the series, ONCE UPON A HIGHLAND SUMMER, or drop me a line at leciacornwall@shaw.ca. Also click here to visit my Avon Romance page.
To comment on Lecia Cornwall's blog please click here.