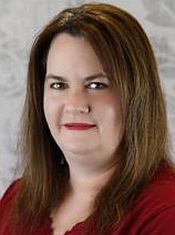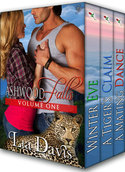 Shifters are fast becoming my favorite paranormal beings. I love the protectiveness, possessiveness, and the compassion for family. I also love the mixture of human and animal qualities inside one person, the internal struggle for control, and the primal instincts.
I'm a cat person, so I tend to lean toward the felines of the shifter worlds. But I also like a HOT werewolf, or two, or three. When I set out to develop my own shifter world, I wanted the best of both the cat and dog worlds. That was when I came up with Ashwood Falls.
Two Packs must depend on each other to survive and fight against their enemies—a rogue Pack called Onyx. The wolves and leopards came together to form one den and community where their people can rebuild their lives after the attacks that nearly destroyed them.
So why two different Packs that are opposites and generally don't mix well? Because I like tension and conflicts in my story lines, and I get to explore the differences between the wolves and the leopards. I also get to watch the Packs grow and strength together as the series develops. I believe they can learn from one another. Will there be arguments? Test of dominance? Sure there will. It'll be one hell of a ride.
Inside the Box Set
Winter Eve, prequel
Danica Welsh was born to be the leopard pack healer. An accident involving a drug induced youth left her badly burned and scared—emotionally and physically. All hope of mating and family become a distant dream. When she finally starts to accepts the long, lonely existence ahead of her, a stranger crashes into her life, and her heart.
A Tiger's Claim, book 1
As the Alpha's only daughter Shayna Andrews has always been treated like a rare gem, protected like royalty, and she's suffocating. Her longing to be independent has driven her to sneak out one evening after dinner. After relishing in being able to run free without an escort, she finds herself face-to-face with the enemy, miles from home, and nearly loses her life until a lone wolf comes to her aid. But when he discovers she wears the enemy's brand, things will go from bad to worse.
A Mating Dance, book 2
Senior enforcer, Cameron Nickels has found her perfect mate. Blaine Andrews, leopard Pack Marshal, is strong, dominate, loyal, and passionate. He knows all her strengths and weaknesses—not to mention her pleasure points. Cam's known Blaine most her life, but she's always felt like something was missing and her jaguar refuses to fully accept him. Yet, she can't walk away from him. When architect and sexy mountain lion shifter, Graham Griffin, comes to town to design the new den nursery and school, Cameron finds herself in a mating dance that throws her and her jaguar into flight mode while Blaine must decide if he cannot only share his mate, but welcome another.
About Lia Davis
Lia Davis is the author of the bestselling shifter series, Ashwood Falls, a mother to two young adults and three kitties, a wife to her soul mate, and co-owner to Fated Desires Publishing, LLC. She and her family live in Northeast Florida battling hurricanes and very humid summers. But it's her home and she loves it!
An accounting major, Lia has always been a dreamer with a very active imagination. The wheels in her head never stop. She ventured into the world of writing and publishing in 2008 and loves it more than she imagined. Writing is stress reliever that allows her to go off in her corner of the house and enter into another world that she created, leaving real life where it belongs.
Her favorite things are spending time with family, traveling, reading, writing, chocolate, coffee, nature and hanging out with her kitties.
To comment on Lia Davis's blog please click here.