1–What is the title of your latest release?
2–What is it about?
Niall, the Marquess of Inverray, is standing for Prime Minister when anonymous political tracts circulate that critique his campaign, and he's determined to find the writer and put a stop to them. Little does he know the writer is Alicia, the dowager Countess Lindsay…his new bride of convenience.
3–What do you love about the setting of your book? 
This book delves a bit into the political climate of the time, which is not something I initially intended to include. But since Niall is standing for Prime Minister and Alicia pens political tracts, I wanted to include details about the issues that the country was grappling with in 1834, and I found myself intrigued by how political and social life was changing even while some factions were determined it should remain the same.
4–How did your heroine surprise you? 
For all the challenges and heartbreak that Alicia has experienced in her life, she is still motivated by kindness. By a fierce sense of justice and equality. And because she feels so strongly about those things, her wealth of love is endless.
5–Why will readers love your hero? 
Niall is ambitious, uptight, and stubborn…but he truly has a heart of gold, and his loyalty knows no bounds.
6–What was one of your biggest challenges while writing this book (spoiler-free, of course!)? 
Balancing Alicia's secret. I wanted her reasons for keeping it to make sense to the reader without making her seem underhanded or duplicitous, and yet I needed readers to understand why Niall was so hurt by her not disclosing the truth to him.
7–Do you look forward to or do you dread the revision process? 
I both dread the revision process and also welcome it. I don't fully grasp my story until revisions. My first draft is usually just a basic framework for the story…and in revisions I get to nail up the drywall, and consider what paint colors and fixtures fit the style I'm going for.
8–What's your favorite snack to have on hand while writing? 
I usually don't snack while writing BUT I do enjoy sipping on a glass of crisp white wine.
9–Where would you go for an ideal writer's retreat? 
I am not picky about location. I've done a writer's retreat near Sedona, and it was beautiful to be surrounded by all the red rocks and then travel north to soak up the pines in Flagstaff. My friends and I are planning our next retreat now that we're all vaccinated, and we are considering Savannah or Nashville – somewhere we can explore in between writing sprints and plotting sessions.
10–What's the best piece of writing advice you've received? 
You can't edit a blank page. Once I learned to turn off my inner editor and get words on the page; words I can revise and edit later, my writing productivity improved immensely.
11–Who is the fictional character you want to hang out with the most? (anyone in literature!)
I think it would be a blast to hang out with Nix, the Ever-Knowing primordial Valkyrie from Kresley Cole's Immortals After Dark series.
12–What's one of your earliest book memories? 
Sobbing my heart out while reading Where the Red Fern Grows. Ooof, I was devastated!
13–If you had to write in a different genre, what would it be and why? 
I would love to try my hand at writing paranormal romance. I like the idea of building my own world, with its own rules and strictures and norms my characters have to navigate or break.
14–What song will automatically put you in a good mood? 
Anything by Fleetwood Mac!
15–What is your favorite way to practice self-care?
A glass of wine, a good book, and sitting by my husband's side.
16–What can you eat and never get sick of? 
Tacos!
17–Will you share a favorite, recent-ish book you recommend? 
I adored It Was Only a Kiss by debut historical romance author Shannon Gilmore! It was smart, witty, and so romantic!
18–Do you have any hobbies? 
I enjoy reading and sometimes writing fanfiction. It's such a lovely escape!
19–Are you an early bird or a night owl?
Night owl. I write most of my new words after the kids are in bed at night.
20–What can readers expect from you next? 
I am busy writing the first book in my new Latinx Victorian romance series with Berkley, The Luna Sisters! The history and events of that time are different and complex, and I am enjoying writing them through the eyes of my characters. This is the first time I've written Latinx characters, and I am loving that I can explore my heritage while I do it!
Once Upon a Scandal #4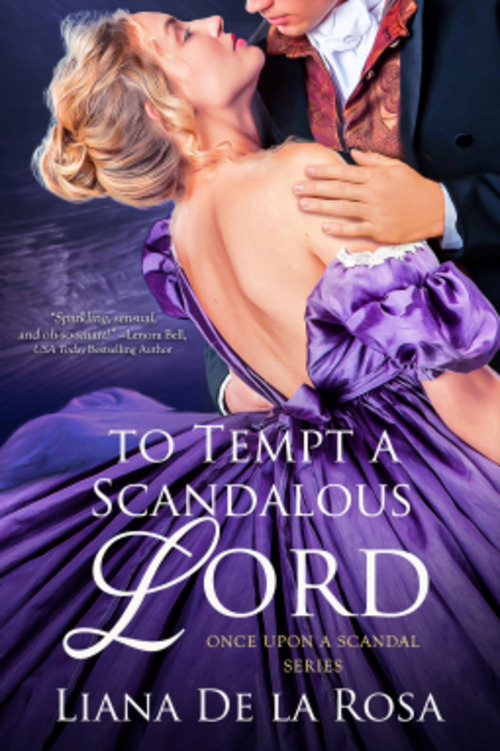 Alicia Lindsay, the dowager Countess Lindsay, has spent her life under the dominion of men— leered at yes, but ultimately silenced and cast aside. But widowhood has granted her the freedom to voice her critiques against injustices in articles that have enraptured the nation. Resolved to bring about political change, Alicia's investigation of the newest party candidates leads her to the captivating, hardheaded Lord Inverray. She's unprepared when he proves to be not only charming but chivalrous when a slight wardrobe malfunction—with all eyes of the ton upon them—forces her to accept his proposal. Now she's keeping a huge secret from her soon-to-be-husband.
Niall Campbell, Marquess of Inverray, has spent years finding support for numerous legislations to help his fellow Scots. Now poised to grasp the party leadership, his success has been threatened by some anonymous articles critiquing his campaign. Niall vows to find the author and silence them, no matter the cost. But when he finds himself engaged to an alluring widow with a sharp tongue, his plans get derailed in more ways than one…
Each book in the Once Upon A Scandal series is STANDALONE:
* To Love a Scandalous Duke
* To Resist a Scandalous Rogue
* To Tame a Scandalous Lady
* To Tempt a Scandalous Lord
Romance Historical [Entangled: Amara, On Sale: June 21, 2021, e-Book, ISBN: 9781649371843 / eISBN: 9781649371843]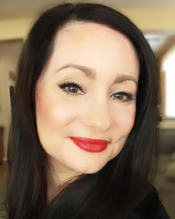 Liana De la Rosa is a historical romance writer whose stories are set in the Late Regency and Victorian periods. Liana has an English degree from the University of Arizona. When she's not writing books featuring unexpected characters, witty heroes, and intrepid heroines, Liana is reading fanfiction and pretending she's a domestic goddess while she wrangles her rambunctious brood of small children with her patient husband in Arizona.