My idea way to spend a Saturday? Is that a trick question? You're asking a writer who works at home and whose kids are grown up and aren't going to school any more. If I don't look at the date up at the top of my computer screen, I rarely know what day of the week it is. And I only look at the date to see how much time I have before the next deadline.
Even so, there is something special about Saturdays that goes back to childhood. When I think about Saturdays, memory transports me back to a time then I was about twelve years old.
Saturdays were magical back then. School was over for the week, you could wear blue jeans instead of school clothes, and Sunday stood there as a buffer between Now and Monday. I don't know if my Saturdays all had a sameness about them then, but I remember them all following the same pattern.
My friends and I went to the movies.
First we gathered at somebody's house to decide which movie to go to. There were three movie theaters in our neighborhood, the Earle on 74th Street, the Colony on 82nd Street, and the Boulevard on Northern Boulevard. Each one had a kids' matinee on Saturday with a double feature, cartoons and newsreel.
Once we'd decided on our destination, we headed out to buy our lunch. This was generally a kosher hot dog with sauerkraut and an orange drink. We would take our food with us to eat on line while we waited to get into the theater.
To this day, I think a hot dog with an orange drink is a delectable combination.
Once inside it was important to grab your seats. The more of you there were, the harder it was to get seats all in a row, so sometimes we had to break up into smaller groups.
The important thing was to make sure you weren't right under the edge of the balcony, because the balcony was boy territory and the boys liked to drop stuff on the people below. In fact you didn't want to sit up to a dozen rows forward of that line because some of them were pretty good at throwing stuff, not just dropping it.
The best place to sit was just under the balcony and in the middle of the theater so you had a good, safe view.
Once you had your seats, you took turns going for your candy before the show started. If you didn't have time before the lights went down, you could always go during the newsreel, which interested us not at all.
I know lots of people associate popcorn with movies, but we never went for popcorn. We went for candy. It was always a difficult decision. My favorite candy bar was a Baby Ruth, caramel and nuts covered with chocolate. Its drawback was that it didn't last very long. The alternative was either Jujyfruits or Jujubes. These took a long time to eat because they would get stuck on your teeth and you sometimes had to pry them loose.
Then there were the movies. They were never first-run movies and some of them were quite elderly. We never cared. They were magic, and we were in another world.
Our favorites were swashbucklers, preferably with pirates. (To this day, the sight of a ship with billowing sails up there on the screen has my heart going pitter-patter.) Next came cowboy movies, in which there were clearly good guys and bad guys and absolutely no realistic gore. Then there were musicals. We all loved musicals and often walked home singing bits of the songs. And in all of them, there was romance.
Romance and adventure—what more could anyone want?
Giveaway
What is your favorite adventure? One reader will get a copy of A SCANDALOUS ADVENTURE, just tell us your thoughts below!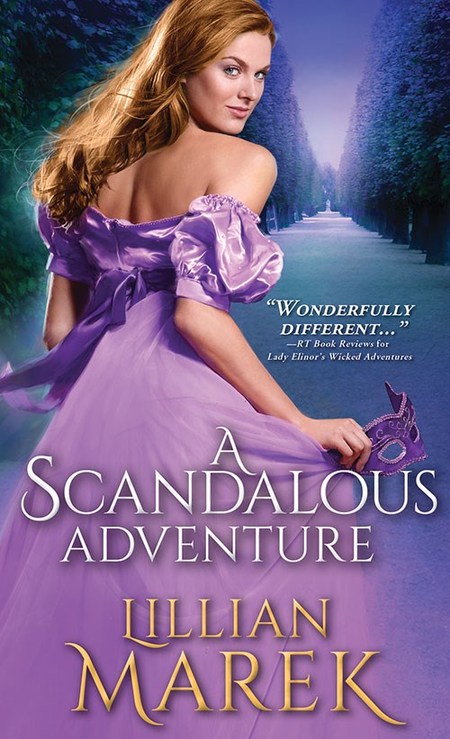 They're hiding a scandalous secret
When his monarch's flighty fiancée disappears, Count Maximillian von Staufer is dispatched to find her. His search leads Max to discover not the princess, but a look-alike who could be her double. Desperate to avoid an international crisis, he conceives a plan that will buy some time—and allow him to get to know a beautiful Englishwoman.
And time is running out
Lady Susannah Tremaine and her young friend Olivia are staying at the Grand Hotel in Baden, where so far the most exciting part of the visit has been the pastries. But when a devastatingly handsome royal Germanic officer asks Olivia to impersonate a missing princess, Susannah finds herself drawn into a dangerous world of international intrigue as she tries to protect her friend—and her heart.
Lillian Marek was born and raised in New York City. At one time or another she has had most of the interesting but underpaid jobs available to English majors. After a few too many years in journalism, she decided she prefers fiction, where the good guys win and the bad guys get what they deserve. The first book in her Victorian Adventure series, Lady Elinor's Wicked Adventures, won first prize in both the Launching A Star and the Windy City Four Seasons contests. She was also a first prize winner in the Beau Monde's Royal Ascot contest.
Romance Historical [Sourcebooks Casablanca, On Sale: August 1, 2016, Paperback / e-Book, ISBN: 9781492602231 / eISBN: 9781492602248]