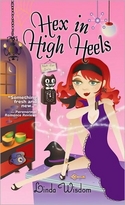 First off, many thanks to Fresh Fiction for giving me a chance to talk about my latest book, HEX IN HIGH HEELS.
If you've read my series you know that my witches are sexy, snarky, and have attitude plus. They can take down the bad guys without chipping a nail and the words "charge it!" are in their vocabulary. They have a metabolism we wish we all had and the way they look is cuter than drop dead gorgeous.
They're the ones you'd love to have coffee with at Starbucks, go shopping, or find a great place for lunch.
In many ways they're just like us.
Well, except for the fact, …oops, click here to read the rest, you won't be sorry!