Candy's Inside Books
A look at books, authors and movie events
There are so many of my friends and favorite authors with books out this month that I'm going to get straight to it!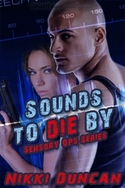 I liked Nikki Duncan's SOUNDS TO DIE BY, so much that I gave her a cover quote. Rookie FBI Agent Kieralyn Beckett doesn't want her team to know that the last victim in the kidnapping case they are working was her college roommate. She wants to stay on so that she can find her friend. The only man she can turn to is NSA "listener" Ian Cabrera.  He doesn't have time to help her until he hears something in the recording she brought him. It just so happens that he hears something that might be a tied to a case he's working on. Nikki says, "My book comes with a warning: This title contains a blind hero who knows his way around a woman's body, steamy kitchen sex, verbal sparring, kidnapping evasions, fiery near-death experiences and heart-pounding sensory overload."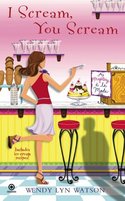 When my friend Wendy Lyn Watson was researching her new book I SCREAM, YOU SCREAM, she kept making her friends fat. "I included recipes in the book, so I've made a lot of ice cream over the past year," Watson says. "At first, when my friends caught on, we had a spike in dinner invites, but then they got tired of tasting my experiments (and of not being able to fit in their jeans). So now I have to find a new group of unsuspecting guinea pigs. If I show up on your doorstep with a plastic tubby and a couple of spoons, you might want to turn out the lights and pretend to be out."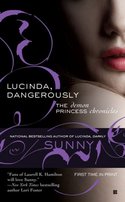 Don't tell her, but I have a crush on Sunny who's LUCINDA, DANGEROUSLY, is on shelves now! "It's not just Lucinda's story, the nasty-turned-nice demon princess heroine, but of the two ancient demon bodyguards she brings back from Hell — Ruric and Hari.,"Sunny says. "I first came up with the character of Lucinda because I wanted to write someone more edgier, more…well, mean.  Had a lot of fun softening up Lucinda with all those gorgeous men in need.  Enjoyed myself as well peeling away the hardened exterior crusts from Ruric and Hari and opening up their demon hearts to unexpected love."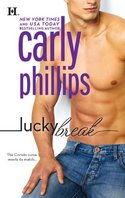 I adore Carly Phillips and LUCKY BREAK, is a must read. Jason Corwin knows he should resist his attraction to Lauren Perkins. After all, it was one of her ancestors that came up with the curse that had haunted every Corwin male since. But after one night of mind-blowing sex with his supposed—and very seductive—enemy, he can't bring himself to stay away. All Lauren wants is to sell her late grandmother's creepy house and leave the past behind forever. But that's not such an easy thing to do with gorgeous contractor Jason Corwin whispering sweet, sexy somethings in her ear … about staying in town. Then a saboteur and the promise of hidden treasure changes everything – and one lucky break just might put an end … to the Corwin curse forever.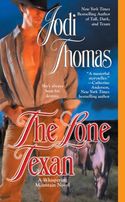 Jodi Thomas' latest is THE LONE TEXAN. "I  couldn't wait to write Sage and Drummond's story after watching them grow up through the three other Whispering Mountain books," she says.  "He's one of my favorite heroes just because he never stopped loving Sage.  He's always been alone and she's always been surrounded with family.  At one point in the story Drum realizes he's going to have to fight all three of her brothers to get close to Sage.  I don't remember a time that I laughed more while writing a story."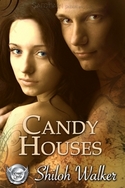 The lovely Shiloh Walker has a cool one out CANDY HOUSES, which features Greta, who is a Grimm – a special kind of guardian angel and official butt-kicker in the paranormal world. Rip's about the only man who can make her heart race, and now he's back to help her face the danger ahead. "The story came to me one day while I was watching Buffy the Vampire Slayer and I had this idea to retell some fairy tales, only with stories that are very different from the ones you'd find in any Grimm book," Walker says. "It turned out to be the first in a new series called "Grimm's Circle."'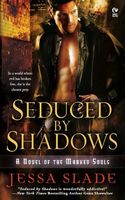 First time author Jessa Slade's SEDUCED BY SHADOWS, looks like a winner.  "I wrote this story to answer a simple question: Are we good or evil?  I think the answer is, Uh-oh, we're both," Slade says.  "My hero would like to see the world in black and white, but the heroine forces him to see all the colors, and she has to ask him is he strong enough, not just to vanquish the armies of evil, but to fight for love when he can't be certain there's anything outside the shadows.  See?  Like I said, simple."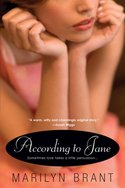 Marilyn Brant is also a first time author. The Jane Austen fan says, "ACCORDING TO JANE, is the story of a modern woman who has the ghost of Jane Austen in her head giving her dating advice. It follows Ellie Barnett through two decades of relationships as she seeks her very own hero–her "Mr. Darcy"–and, more importantly, a confident sense of self and the ability to listen to her own voice."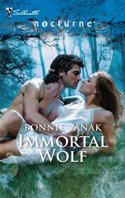 Emily Burke has been exiled because everyone she touches dies in Bonnie Vanak's IMMORTAL WOLF. She doesn't trust werewolf Raphael Robichaux when he comes into her life, but he knows there's something big at stake. Not only does he know her blood can restore life, she is destined to be his mate. "Raphael is a leather-wearing, Harley-riding Cajun," says Vanak. "I also have a free download on eHarlequin starting Oct. 19 that is connected to this book. It's called "SEDUCING THE VAMPIRE."'
There are so many books you don't want to miss this month. Make sure you also check out Mindy Kasky's HOW NOT TO MAKE A WISH, Kimberly Lang's THE MILLIONAIRE'S MISBEHAVING MISTRESS, Deb Stover's THE GIFT, Rebecca York's (She's one of my heroes!) DRAGON MOON, Ann Macela's WILD MAGIC, Margaret Carroll's RIP TIDE, Carla Cassidy's UP CLOSE AND PERSONAL, Shayla Black's SEDUCE ME IN SHADOW, Barbara Cumming's A KILLING IN RETROSPECT, Kate Lyon's DESTINY'S CAPTIVE,and Sandra Elzie's THE DIPLOMATIC TUTOR.
Well, that's it for this month, see you next with more news…Candy