Hello! Lisa Dale and my first book, Simple Wishes, debuted early this year. I'd love to give away a copy of the book today. Keep reading and let me know if you're interested!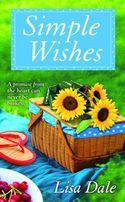 I don't know about you, but I tend to be the kind of person who's fascinated by nearly everything. I've always got my nose in a book, and when I go to the dentist, I drive the hygienist crazy with all my questions about what machine does what.
That's probably why my first novel lumps some seemingly unrelated elements together into one story: bluegrass, woodworking, sex education, Korean historical soap opera, happily-ever-after…it's all there.
Hooked? Read the rest and comment to be eligible for a FREE signed copy of SIMPLE WISHES