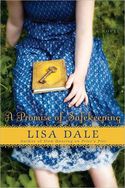 When I was a little girl, I lived in a 1930s-era house, complete with keyholes big enough to look through, heavy doorknobs, and leaded glass. One day, I found a key—I can't remember where I'd found it. It was an old-fashioned key—heavy, corroded metal. A thick stem and chunky teeth.
I asked my mother what it was to, and she said she didn't know.
I pondered.
I asked her again what it was to.
She still didn't know.
There was something about that key that was elusive, even a little frustrating. What did it lock? And what was the purpose of the locking? Did this key keep people out? Or did it lock people in? Was it to a box, filled with secrets and keepsakes? And what made those things worthy of protection?
The key seemed to have a story, but its lips were sealed.
Amazingly enough, I found myself writing about keys when I started working on my new book, A PROMISE OF SAFEKEEPING. The hero, Will, is an antiques dealer—a picker. And he's fascinated by the stories that antiques tell (and don't tell). Here's the story:
Nine years ago, Lauren Matthews prosecuted the case of a lifetime. But her error in judgment sent an innocent man to prison. Now Arlen Fieldstone's finally been released, and Lauren has only one thing on her mind:  asking forgiveness. But how can she make up for nine years of his life?
To get to Arlen, Lauren must first get through Arlen's best friend, Will Farris. Will hasn't forgotten Lauren from those days, and hasn't forgiven her for destroying his best friend's life. He is Arlen's keeper—protecting him from suspicious neighbors as well as from Lauren.
In the steaming summer streets of Richmond, Virginia, three people's lives collide. Lauren needs forgiveness. Arlen needs hope. And Will? He needs something too, something that no one can know—especially not Lauren…
In A PROMISE OF SAFEKEEPING, I was fascinated by the notion that we keep things: We keep secret notes in boxes, we keep people behind bars. And—surprise—my hero's favorite object to collect is keys. Will actually might be my favorite hero in all my books yet.
I hope you'll check out A PROMISE OF SAFEKEEPING if you're looking for a dramatic, emotional story with a touch of romance. It will inspire great conversations in your book club!
But in the meantime, I'm giving away a copy of my previous book (a Barnes & Noble Top Pick!), SLOW DANCING ON PRICE'S PIER) to one lucky U.S. winner.
You can enter to win by answering this question:
What do you hold on to or collect?
Good things,
To comment on Lisa Dale's blog please click here.