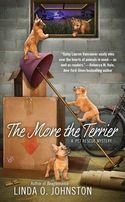 Can you believe that tomorrow is the first day of the new year? I can… even though 2011 went really fast for me.
So here comes 2012. What's coming up during the next year? Well, I'm not much of prognosticator but there are a few things I'm fairly sure of.
Number one? I'll be writing! Plus, I'll have a few books published.
The first of my new books will be HOUNDS ABOUND, the third Pet Rescue Mystery from Berkley Prime Crime. It will be an April release. My first Harlequin Romantic Suspense book, UNDERCOVER SOLDIER, will be a July release. And my fifth Harlequin Nocturne novel, the fourth in my Alpha Force miniseries about a covert military unit of shapeshifters, will also be published this year, although its title and publication date have not yet been confirmed.
Busy? Yes! Especially since I'm working on the next Pet Rescue Mystery, OODLES OF POODLES, and on new ideas for the other series.
Number two? I'll be enjoying the pet rescue volunteering I do. It started out as research for my Pet Rescue Mysteries, and I found I really enjoy it. I'm a dog adoption counselor for Pet Orphans of Southern California, which means I get to introduce potential dog adopters to their possible new family members. It's really gratifying!
Number three? I'll be enjoying my own family, both people and pets. As I write this, my younger Cavalier King Charles Spaniel Mystie is sitting on my lap demanding that I pay attention to her. My older Cavalier Lexie is lying on the sofa biding her time until Mystie gets off my lap and she gets a turn.
Number four? I'm teaching an online class beginning in February for the Orange County Chapter of Romance Writers of America: Kiss Me or Kill Me: Writing Cozy Mysteries for Romance Writers. Participants don't have to be romance writers, though, since I intend to start from scratch about how to write cozies.
I also hope to spend time with friends, both face-to-face and online. My law practice has been replaced by my writing career, but if some exciting new law project comes along I wouldn't mind. Travel? Yes, I intend to work some fun trips in, too, including those related to writing conferences.
What do you anticipate for 2012? I hope it's all good!
One possibility? You can enter the contest here at Fresh Fiction to win an autographed copy of THE MORE THE TERRIER, my second Pet Rescue Mystery!
To comment on Linda O. Johnston's blog please click here.