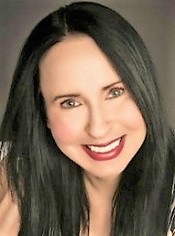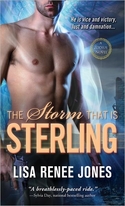 It's almost Thanksgiving and I love the holidays. I have a big reason to celebrate this year with the release of first THE LEGEND OF MICHAEL and now THE STORM THAT IS STERLING. I was very excited to get my first Booklist review as well!
Here is what they had to say:
The exciting Zodius futuristic suspense series features soldiers enhanced by a GTECH secret military experiment. Sterling Jeter, who is assigned to guard Rebecca Burns, the scientist working on an antidote for the highly addictive and fatal drug ICE. But Rebecca is also the high-school dream Sterling was never able to realize. She has cancer and tangling with bad guys who want her science skills for their ends has left her an ICE addict, too. She wants to take advantage of her time left with Sterling, while Sterling wants to protect her. As danger mounts, they try to sort out who is trustworthy. The GTECH and science details can best be followed with the help of the index, but they do not overwhelm the appealing characters or action. Jones' suspense truly sizzles with an energy similar to FBI tales with a paranormal twist by Julie Garwood or Suzanne Brockmann. Alpha, military, and paranormal romance readers will want Jones' entire series.
Yes, I am thankful. For the review, the release, readers and friends, and of course, the family I love so very much. I don't have a large family and  I think that helped me write Sterling because he doesn't either. In fact, he lost his father to the Iraq war, his mother died in childbirth, and now, even the grandmother who raised him is gone.
But Sterling gets his happy ending and I like to think about him, sharing his Thanksgiving, with Becca, who is the heroine in his story, and most certainly, in his life. I can see Sterling sitting down to watch Christmas Vacation with Becca and laughing himself, and her, silly. You see Sterling uses slly humor to hide his pain, always cracking a joke. He reminds me of Dean from Supernatural with that dry humor that is always so well timed.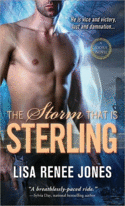 I'll leave you with a few STERLINGISMS today and all you have to do to win a basket of goodies, is tell me your favorite tormented hero from books or movies or tv! Or just tell me your favorite way to spend Thanksgiving.
"We Renegades write our own rules. The good, bendable kind that let me kick your ass all over the curb and then do it again just for fun."
****
After being punched — "Feels Good"
****
"You don't know the meaning of 'wait,' do you?" Caleb asked.
Sterling grinned. "You wouldn't love me if I did."
****
"I'll be taking that vial of ICE you got there in your pocket. Then you can mosey on along and take the rest of your lifetime on vacation. You know, do whatever retired drug dealers do. Play the casino tables. Watch SpongeBob for all I care. Just get the hell off my streets."
****
"You're the suit-wearing, talk-down-to-you, and then bust-your-wallet-in-the-balls, kind of asshole. I'm the dirty-boxing, back-alley kind of asshole."
****
Sterling's lips twisted with a wry taunt. "The next two bullets won't hit the ground. Think of all those little bones in your feet blasted away by the steel force of a bullet." He shook his head. "Ouch. That hurts just thinking about it. Even on an ICE high, that's gonna bite like a bitch. After that, we'll move upwards." He pointed the gun at Mohawk's knee. Then his thigh. Then shoved the gun toward his crotch. "About midway up is where all the fun starts. If I blow it off, will ICE grow it back? Wanna find out?"
****
Happy Thanksgiving everyone!
Lisa
Oh and I have an after Thanksgiving contest on my blog for a Honey Baked Ham gift card and Godiva and in December there will be a Kindle Fire up for grabs! Details are on my blog.
To comment on Lisa Renee Jones's blog please click here.