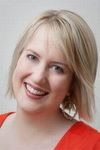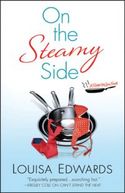 I felt like I was taking my life in my hands when I pitched the idea for ON THE STEAMY SIDE to my editor. Sure, it was a continuation of my culinary romance RECIPE FOR LOVE series, starring a character she already knew and loved from CAN'T STAND THE HEAT, but the concept . . . well, my original idea was a sort of homage update of Charlotte Bronte's JANE EYRE: a classic governess story in which the innocent heroine falls for the brooding, sophisticated father of her charge, turning his life inside out and upside down in the process.
For my purposes, there was also the added element of food—the hero, Devon Sparks, is also a jaded celebrity chef who's afraid he's lost his palate when his fancy, experimental food falls flat during a short stint at Market, while the owner is away. And the nanny, Lilah Jane Tunkle, has never worked in a professional kitchen (much less a testosterone-fueled NYC establishment) but has been steeped in good, old-fashioned Southern cooking since she was little. Guess whose food Devon's son, Tucker, would rather eat?
Because yeah—that's the other essential ingredient in the governess romance: A kid! By the time ON THE STEAMY SIDE was finished, it had deviated quite a bit from the original idea; this is definitely not a simple update of JANE EYRE! Quite a few surprises occur along the way, but one element that never changed was the inclusion of Devon's son.
That was the part that made me nervous, because children are surprisingly hard to write convincingly. I've read lots of books, not just romances, with young characters who are either tooth-achingly sweet or essentially just short adults; neither works well. That's probably why editors tend to be wary of romances featuring children, but I was determined to try.
And it ended up being fun! Tucker, Devon's 10-year-old, is as real as I could make him. He's a little sulky, a little charming, a little aloof, a little clingy. It was important to me to really explore a family dynamic with Devon and Lilah, and the addition of Tucker raised the stakes in a way that felt risky but ultimately very rewarding for me, as a writer. And nearly every reader who's gotten in touch about ON THE STEAMY SIDE has said his story made them cry, so hopefully that means Tucker's okay!
Children in romance novels needn't be the kiss of death. It's been done well lots of times. For instance, the Chesapeake Bay series by Nora Roberts, the one that begins with SEA SWEPT? I could read those books over and over (and have!) The teen niece of the heroine in FAKING IT by Jennifer Crusie is a very memorable, fun character who definitely enhances that book. And I know there are more . . . help me think of them!
Comment with a romance you've loved that features a prominent child character for a chance to win an autographed copy of ON THE STEAMY SIDE —and a signature Recipe for Love apron and spatula set.
To comment on LOUISA EDWARDS blog for a chance to win please click here.