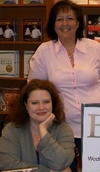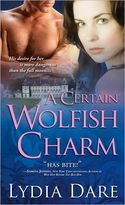 Have you ever been to a bar and ordered a "sex on the beach"? (It's a combination of schnapps, vodka and juices, if you're not familiar with it.) Or a "between the sheets"? (Brandy, run and some other things that escape me at the moment.) Then there's the famous "screaming orgasm." (I just made myself blush, in case you're curious.)
Here's my question for you – have you ever seen anyone smack the table, wink at you and ask for two "happy every afters?" Probably not. Mainly because a happy-every-after isn't scandalous enough to make an innocent blush or a rake chuckle. It's not fodder for the rumor mill nor is it something that will make you wake up sweating during the night.
If it was on the menu, would you order it? Thank goodness it is, right in the pages of a book. I can find a happy-ever-after winking at me from the bookshelf any day of the week.
There are other choices to suit my mood, of course. When I'm feeling anxious, I might want to go for a crime novel. When I'm feeling unsettled, I might like to read a book about a mom who takes a walk and keeps on walking. When I just want to escape, a comedy or cozy book is nice. But, those instances are few and far between. I much prefer the happy-ever-after. I like the whirlwind affair, the swirling emotions that can unsettle a reader almost as much as the characters on the page and I really like the ending, the thought of the happy-ever-after. It gives me a hint of what it's like to feel cherished, even when I'm not feeling that way in my real life.
In the first book in my new series, A Certain Wolfish Charm, Simon Westfield, the dangerous Duke of Blackmoor, is introduced to the reader as he tries to decide between ordering one whore or two. How's that for menu choices? The wild Lycan in gentleman's clothing hasn't done a very good job of hiding his inner beast and makes a sport of creating all the havoc he can. That is, unless the moon is full. And then he's forced to retreat to the forest where he can seek the pull of the moon and let it take him away. Of course, that's a solitary pursuit until he meets Lily Rutledge, who might be strong enough to tame him.
It's the very idea that a rake can be tamed, that a hellcat of a heroine can be set down, or that love can overcome a man drunk on the pull of the moon that keeps me going back to romance, to the happy-ever-after.
So, consider me as someone who will most definitely smack the bar, wink and ask for a happy-ever- after. What ingredients are necessary for your happy-ever-after?
A CERTAIN WOLFISH CHARM by LYDIA DARE–IN STORES APRIL 2010!
He gets crankier and crankier as the moon gets full…
The rules of society can be beastly–especially when you're a werewolf and it's that irritating time of the month. Simon Westfield, the Duke of Blackmoor, is rich, powerful, and sinfully handsome, and has spent his entire life creating scandal and mayhem. It doesn't help his wolfish temper at all that Miss Lily Rutledge seems not the least bit afraid of him, and in fact, may be as untamable as he is…
A woman whose charm is stronger that the moon…
When Lily's beloved nephew's behavior becomes inexplicably wild, she turns to Simon, the boy's cousin and guardian, for help. But Simon's idea of assistance is far different than hers, and Lily finds herself ensconced in his house and engaged to the rogue.
They both may have bitten off more than they can chew when each begins to discover the other's darkest secrets…
About the Author
Lydia Dare is the writing team of Tammy Faulkner and Jodie Pearson. Both Tammy and Jodie are active members of the Heart of Carolina Romance Writers and live near Raleigh, North Carolina. They are working together on their next paranormal historical trilogy as Lydia Dare, which will be released by Sourcebooks Casablanca in Spring 2010! For more information, please visit their website.
To comment on I'll Take Two Happily Ever Afters Please? and for a chance to win please click here.