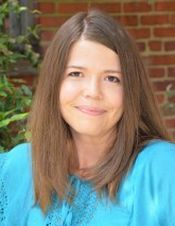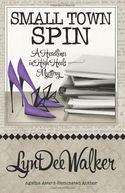 The question I get most often when folks see that like the heroine in my mysteries, I was once a reporter, is "are the stories Nichelle covers in the books based on real life?"
Yes and no.
I covered murders, fires, child abuse, a serial rapist, and tragedies of every shape and color in the seven years I spent as a full-time journalist before I left the newsroom for full-time motherhood.
So far, the books have seen the more fun stories: an abandoned casket, a Houdini catburglar, cowboys and church ladies nearly coming to blows in a girly bar parking lot.
Playing in Nichelle's world is a blast. It has everything I miss, minus the 80-hour weeks away from my family. Bonus: fiction forensics labs can work faster and have bigger budgets, and Nichelle isn't nearly as afraid of fictional jail as I was of the real thing. Fictional bereaved people are at least a little easier to interview, too.
My favorite writing moments are those when shiny ideas pop out of nowhere and braid themselves into a plot. I only love them a little less when they come at 2 a.m.
One night last week I woke with a fantastic idea for an opening scene: setting, characters, emotion. It's a writer's dream. Maybe it came from mine—I can't remember. But by the time I had it all grown up into a mystery plot and safely typed into the notepad on my iPhone, I was wide awake. At 7:30 I finished the book I picked up "to put me back to sleep" and got my children up and ready for school. And then drank all the coffee in Richmond.
In a lot of ways, this author thing isn't so different from reporting: I get to deal with people, the hours are often unpredictable, and mass quantities of caffeine are required. The family time and the readers are the two things that make fiction better than fact for me.
Here's a peek at the brand new title in my Headlines in High Heels mysteries: I hope y'all have as much fun with Nichelle as I do.
The news doesn't take sick days.

Generally, the number of blocks on a calendar that I don't work are rarer than comfortable shoes at a runway show. But four hours into a double shot of Claritin and DayQuil on a sunny April afternoon, I still felt like I'd been hit by a truck, and had only man- aged to finish one story.

"I think pollen season has won the afternoon, kiddo," my editor said, eyeballing me from the doorway of my cubicle. I tried to lift my head to reply, but dropped it back to my desk with a dull thunk.

"I'm fine," I said into the blotter.

"Go home, Nichelle." Bob patted my shoulder. Happy to oblige.

Settled on my overstuffed navy sofa with my toy Pomeranian snuggled in my lap and the TV remote in hand, I managed three sips of my honey-lemon tea before my Blackberry erupted into Second Star to the Right.

The dog sat up and growled. I patted her and dropped the remote, reaching for the phone. Parker.

"I really am sick," I said by way of hello when I picked up. Just in case he couldn't tell—a shoebox full of clothespins clamped on my nose wouldn't have lent my voice any more of a ridiculous twang.

"You'll thank me in a minute," he said. "I have a story for you. An exclusive, if you can drag yourself back out of bed."

"Drugs or gambling?" I asked, tilting my head to hold the phone against my shoulder while I reached for a notebook and pen. Parker was the star sports columnist at the Richmond Telegraph, and I figured if he was tipping the crime reporter (that'd be me) to a story, it meant an athlete had been busted for one of those things.

"Suicide," he said.

"Aw, hell." I blew out a short breath and dissolved into a coughing fit. "Sorry. Stupid pollen. I hate writing about suicides. Of all the depressing stories I do, those are the ones that get to me the most."

"I need you to do this," he said. "Personal favor. It—" His voice broke, and he paused. "It won't stay quiet forever."

His pleading note left no room for excuses—or allergies. Parker was a good friend. I could suck it up to help him out. Plus, sad subject aside, I couldn't hang up without getting the scoop. Story of my life.

I sighed, pen poised. "Spill it."

"Tony Okerson," he said.

"The football player?" Holy Manolos. "How do you figure

that's going to stay quiet for three seconds? That guy is a living legend."

"Tony Okerson, Junior," Parker said, and I pinched my eyes shut. A kid. Crap, crap, crap. I noted the name and listened as he went on.
When a superstar athlete's son turns up dead in a tiny town on the Virginia coast, crime reporter Nichelle Clarke gets the inside scoop. But she quickly spies a gaping hole her inner Lois Lane cannot ignore.
Determined to unravel the mystery, Nichelle fights off paparazzi cameras and an unexpected rival. She uncovers an illegal moonshine operation, a string of copycat suicides, and a slew of closets stacked with more skeletons than slingbacks. Chasing a killer who's a breath from getting away with murder, Nichelle realizes too late the culprit has her number—and it might be up.
About the author
LynDee Walker's award-winning journalistic work has appeared in newspapers and magazines across the nation. After nearly a decade covering crime, courts, and local politics, she left full-time reporting for motherhood with a side of freelancing and fiction writing. LynDee's debut novel, Front Page Fatality, is an Amazon and Barnes & Noble #1 bestseller, and a 2013 Agatha Award nominee for Best First Novel.
LynDee adores her family, her readers, and enchiladas. She works out tricky plot points while walking off the enchiladas. She lives in Richmond, Virginia, where she is either playing with her children or working on her next novel—but probably not cleaning her house. You can find her online at www.lyndeewalker.com or Facebook or @LynDeeWalker
Leave a comment below telling me about the wackiest news story you can remember, and you'll be entered to win a goody bag that includes an ebook of the first Headlines in High Heels mystery, FRONT PAGE FATALITY, as well as a signed copy of the mystery novella anthology HEARTACHE MOTEL.
To comment on LynDee Walker's blog please click here