No, I didn't have Julie Andrews dancing in my head when I wrote that title…well, not much…okay, you caught me. I wanted her to be my mom when I first saw The Sound of Music all those years ago. One of the curious side effects of that feeling, is that I've tended to focus on finding my "favorite things" right through my adult life as well. I've often changed career paths to seek it and I held out until I met the most amazing woman.
As I became a writer, I didn't start with short stories and work my way up, I jumped straight into novels. And by my fourth book I dove off the high board and into my first series. I enjoy short stories, have read them since forever, and now write a dozen or so new ones every year. And novels are great too. But what I loved was series. Give me Tolkien, C.S. Lewis, Asimov, Nora, high fantasy, Cussler thrillers…all of it. I love it.
Of course, the next challenge was that while I wrote novels, actually writing a series is a whole different animal. I floundered, I flailed, I wrote, and I (sometimes massively) discarded. But as I learned more and more about writing in series, I eventually discovered that not only was it a passion, but I couldn't imagine going back to the "simple" novel at all.
A series offers so many things that I love as a reader:
The world grows ever deeper. At the end of a novel, I have just come to know the world. By the end of three in the same series, I can imagine living there. By the end of five, I often think I have lived there and I love that feeling.
The world of a story is never a simple thing. When writing, I must choose which path will lead me to the best story for those characters. But there are other aspects to these worlds that will interact differently with new characters. That's fun!
Ever-changing relationships. People interact differently with each other as they grow and change. I enjoy watching that interplay. For example, the unholy mess (her own words) that is Emily Beale in Night Stalkers #1, THE NIGHT IS MINE, becomes the matriarch of the clan. It is a role that suits her almost as much as it surprises her at unexpected moments. A good example of that is her flight with Lola LaRue in NS#4, TAKE OVER AT MIDNIGHT.
The people go on. This may be my single favorite thing. I love the evolution of characters. Even though their role may have shifted from the foreground to the back, their lives are not stagnant either. Not only do their relations with others change, but their relationship with themselves evolves as well. I love writing the little bits where we get to see behind the fold into their personalities.
It satisfies me the reader. Each of the characters in each book in a series tells me a new story, one that makes me sigh, giggle, and sniffle. I grow to love each character and the chance to sit down at the keyboard and write the crowd of old friends I've spent so many long hours with is my single most favorite thing about series.
I'd love to hear some of yours.
Giveaway
One commenter who tells us at least ONE thing they love about a series will win a copy of BY BREAK OF DAY
M. L. Buchman raises the stakes-and the heat-in the return of the acclaimed Night Stalkers series
NAME: Kara Moretti
RANK: Captain of the Army's stealthiest remote piloted aircraft (Don't call it a drone)
MISSION: To be the eyes of the team
NAME: Justin "The Cowboy" Roberts
RANK: Captain of the Army's most powerful helicopter
MISSION: To redeem the past, at any cost
They Put Life, Limb, and Heart on the Line
Two new captains join The Night Stalkers with two different strategies in life, love, and combat.
When Brooklyn-raised Kara joins the crew, she knows one thing as an absolute truth: to stay safe, keep everything and everyone at a distance.
Born in Texas, Justin knows only one honorable way to make up for losing his first crew to a suicide bomber: he flies with all his heart. When Kara and Justin collide on a top secret mission deep in the Israeli desert, then the battle truly begins.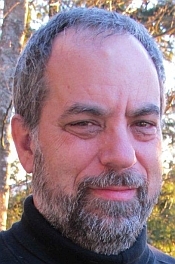 M.L. Buchman has over 35 novels and an ever-expanding flock of short stories in print. His military romantic suspense books have been named Barnes & Noble and NPR "Top 5 of the year," Booklist "Top 10 of the Year," and RT "Top 10 Romantic Suspense of the Year." In addition to romantic suspense, he also writes contemporaries, thrillers, and fantasy and science fiction.
In among his career as a corporate project manager he has: rebuilt and single-handed a fifty-foot sailboat, both flown and jumped out of airplanes, designed and built two houses, and bicycled solo around the world.
He is now a full-time writer, living on the Oregon Coast with his beloved wife. He is constantly amazed at what you can do with a degree in Geophysics. You may keep up with his writing at www.mlbuchman.com.