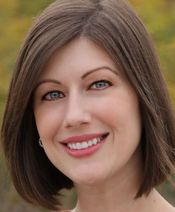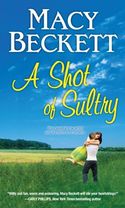 Hi, Fresh Fiction-ers! I'm Macy Beckett, author of the Sultry Springs series: where first loves find second chances. Today I want to dish about romantic gift-giving—you know, a gift that goes above and beyond the ol' flowers and candy routine. Something with sentiment behind it.
In my newest release, A SHOT OF SULTRY, Trey Lewis (who you met in book one) gives Bobbi a seemingly trivial gift that touches her deeply…a handheld Tetris game.  Why does the present resonate with her? Because she's a slightly-neurotic control freak who likes to put everything in its place. Here's an excerpt that explains how Bobbi feels:
As she topped her own high score for the fourth time, she reflected that while Tetris wasn't the most expensive gift she'd ever received, it was—hands down—the most thoughtful, because it showed that Trey knew her. He'd seen this game displayed by a cash register and had thought of her, and that was the real reward. This wasn't some token present from the jewelry store like the hastily purchased white gold earrings her ex had given her for Christmas a couple of years ago. Lovely hoops, to be sure, but she must've mentioned half a dozen times that she was allergic to white gold. She would've rather received a handwritten love note than a lavish gift with no sentiment behind it.
Don't we all want to feel understood by our partners?
Thinking back, the most romantic gift Mr. Macy ever gave me didn't cost him a penny. One evening he surprised me by hauling a television into the master bathroom and situating it on the vanity countertop so I could enjoy the season premiere of my favorite show while soaking in a hot bath. Then he kept the kids quiet downstairs the whole time, ensuring I would enjoy the experience. He knew the kids had run me ragged that week, and he took the time to plan the perfect little "escape" for me. That made me feel very loved.  🙂
What about you, readers? What's the most thoughtful gift you've ever received?
Welcome to Sultry Springs, Texas: where home can be the perfect place for a fresh start.
For West Coast filmmaker Bobbi Gallagher, going back to Sultry Springs is a last resort. But with her career in tatters, a quick trip to her hometown might get her the footage she needs to salvage her reputation. She just can't let anything distract her again. Not even the gorgeous contractor her brother asked to watch over her. As if she can't handle filming a few rowdy Texans.
Golden boy Trey Lewis, with his blond hair and Technicolor-blue eyes, is a leading man if Bobbi ever saw one. He's strong and confident and–much to her delight–usually shirtless. He thinks keeping his best friend's baby sister out of trouble will be easy. But he has no idea of the trouble in store for him…
[A] heartwarming, humorous story of second chances… sweet at its core. A strong continuation of this promising series. —Publishers Weekly
Beckett's foray into love in a small town bounces from funny to endearing to poignant… —Booklist
A sweet yet steamy read… Readers will be left with smiles on their faces and more than ready for more of this quirky little town. —RT Book Reviews, 4 Stars
Brimming with rapier wit and heartwarming moments… Packed with humor and heart. —Fresh Fiction
ABOUT THE AUTHOR
Macy Beckett left teaching to write hot and humorous romances. (No offense to her former students, but her new career is way more fun!) She lives just outside Cincinnati with her husband and three children, and is an active member of two Romance Writers of America chapters. Look for Sultry with a Twist, book one in the Sultry Springs series in stores now, and the third delightful book, Surrender to Sultry, in August 2013. For more information, please visit www.macybeckett.com, Like her on Facebook, http://www.facebook.com/AuthorMacyBeckett, and follow her on Twitter, @MacyBeckett.
To Purchase A SHOT OF SULTRY: | Amazon | Barnes and Noble | Books-a-Million | IndieBound | Chapters/Indigo | Discover a New Love | Sourcebooks
To comment on Macy Beckett's blog please click here.