I'd always known that I wanted to be an author, but I really became serious about it eight years ago. After all the stories flitting through my head, I decided to finally sit down and see if I could write a full length novel.
As it turned out, I could. I wrote two actually.
And I was ready to be published and bask in the glow of immediate literary success.
There was just one problem – I had no idea how to go about doing it.
After asking around, I found a local chapter through Romance Writers of America and eagerly signed up. The first meeting I attended was their Christmas party and I arrived five months pregnant with YoungestMinion.
For the first time in ever, I got to talk writing with people who got it. Who got me. The whole 'people in my head dictating what happened to them', the whole 'it's so much more than a hobby', all of it. It was suggested I join with a critique partner to go through my manuscripts to ensure they were clean enough to start querying editors and agents to get published.
I wish I could say my critique partner read it and declared it a masterpiece of all masterpieces, that it was guaranteed to go down in history as the best darn book ever written and would move lives with its poignancy. But that's not what happened.
In truth, the manuscript (well, both of them really) was a hot mess.
And me? Um…I kinda sucked at the whole writing thing.
There I was with two badly written books (no, you'll never see them) and a lot more ideas rattling around in my head. I certainly didn't want to afford the new ideas the injustice of a poorly executed birth, so I set to work over the next few years, listening to every sound bite on writing I could get, attending countless workshops and online class, and trying to apply everything I learned.
After all that, I wrote my first book with all that newfound knowledge, then wrote it again as I learned more. And yet again as I learned even more still.
Finally, I had a book I was proud to call complete, a compilation of everything I'd gleaned rolled into what I hoped would be a success.
It was with that book, DECEPTION OF A HIGHLANDER, that I was offered representation by my dream agent, Laura Bradford, and received a three book deal from Diversion Publishing.
It swells my heart in ways that are indescribable how fulfilling it is to see ENCHANTMENT OF A HIGHLANDER, my final book of the series that started with DECEPTION OF A HIGHLANDER, release and have my dream finally realized.
Thank you to Fresh Fiction for welcoming me on their site to post a blog and to everyone who has made this incredible dream a reality (Laura, the folks at Diversion, all the authors and instructors who helped me along, and the most incredible readers an author could ever ask for).
For a chance to win a signed copy of ENCHANTMENT OF A HIGHLANDER, please comment below telling me what you're working hard toward or have already achieved.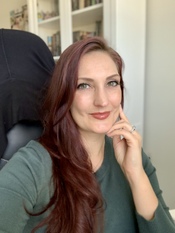 Madeline Martin lives in Jacksonville, Florida with her two daughters (AKA OldestMinion and YoungestMinion) along with their two cats: SketchyCat who stares at walls and eats fuzz and LapCat who has a shoe fetish and enjoys Kung Pow peanuts. All shenanigans are detailed regularly on Twitter.
Madeline graduated from Flagler College with a degree in Business Administration and works for corporate America. Her hobbies include rock climbing, running, doing crazy races (like Mud Runs and Color Runs) and just about anything exciting she can do without getting nauseous. She's also a history fan (really more of a full on history dork) and loves to blog about random curiosities from her research.
After living in Europe for over a decade, Madeline enjoys traveling overseas whenever she can. Her favorite place to visit thus far: Scotland.
Writing has been a passion of hers since she was a child and now she finally gets to see her lifelong dream come true.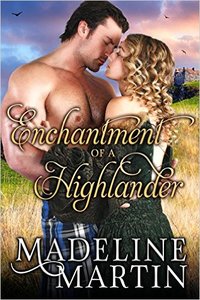 Alec MacLean returns home after a decade to find his recently deceased father has let his inheritance fall to ruin. As the new laird, it's Alec's responsibility to rebuild the castle and restore the lands. He must also regain the people's trust after having abandoned them so long ago, a feat not easily done when he fears he's plagued with the same darkness as his father.
Celia escaped the North Berwick witch trials at a young age, surviving because of the sacrifice of her beloved caretaker. She's made a life for herself in the wilds of Scotland where no laird rules, a life where she heals for coin, a life without love so she can never feel the hurt of loss again.
When the new laird comes back to claim his land, his determination to restore order threatens everything Celia has worked so hard to gain, especially with the undeniable attraction sizzling between them. Together, they will face all challenges, from the tangle of their own damaged pasts to the fire-fueled witch hunts sweeping the Isle of Mull. Together, they will find that the best way to overcome darkness and war is through the undeniable light of love.
"…an enchanting series conclusion." -Publishers Weekly
"…filled with interesting characters and is an enjoyable read." -RT Book Reviews