Fresh Pick for Wednesday, January 20th, 2016 is THE EARL'S COMPLETE SURRENDER by Sophie Barnes
#RomanceWednesday #historicalFun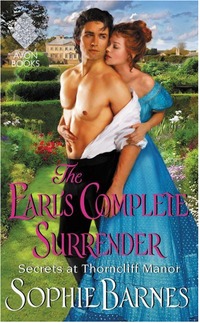 An unexpected passion ignites as secrets are exposed in Sophie Barnes's captivating Regency-set romance
Despite the diversions offered at Thorncliff Manor, former spy James, the Earl of Woodford, has one purpose in staying there. He must find an encoded book that exposes a conspiracy within the British aristocracy. And he must do so without revealing his purpose to the clever, tempting Chloe Heartly. The lady has a knack for appearing wherever it is least convenient. In the library. In the salon. And, especially, in his arms . . .
Somewhere within Thorncliff's labyrinth of rooms lies the journal Chloe desperately seeks. When she realizes the brooding, handsome earl is hunting the same quarry, Chloe enters into an uneasy partnership. But in the face of public
danger and enemies hiding in plain sight, both must decide how much they're willing to risk to solve the mysteries of the heart.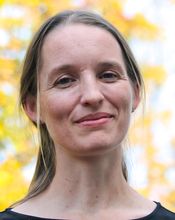 Born in Denmark, Sophie Barnes has spent her youth traveling with her parents to wonderful places all around the world. She's lived in five different countries, on three different continents, and she speaks Danish, English, French, Spanish, and Romanian.
She has studied design in Paris and New York, and has a bachelor's degree from Parson's School of Design, but most impressive of all: She's been married to the same man three times, in three different countries, and in three different dresses.
While living in Africa, Sophie Barnes turned to her lifelong passion: writing. When she's not busy dreaming up her next romance novel, Sophie enjoys spending time with her family, swimming, cooking, gardening, watching romantic comedies, and, of course, reading. She currently lives on the East Coast.
The Fresh Pick is chosen by a group of readers and is never a purchased advertisement or promotion. We've picked this book because it appeals to us and we like to share our diverse tastes in reading and hope you'll give it a try.