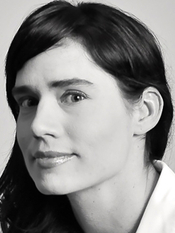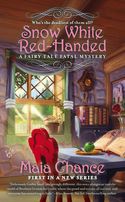 Sure, we all say we root for the protagonists of books, movies, and TV shows, but let's be honest: we want to see them put through their paces.  Ideally, horribly tough paces, and ideally, while we are eating chocolate in bed.
It's true that the ideas for my debut historical mystery, SNOW WHITE RED-HANDED, started out as a have-your-cake-and-eat-it-too mash-up.  I wanted it all: a heroine who could've had a bit part in Little Women AND a castle in the forest.  A cozy whodunit AND intrigue about Snow White and her woodland cottage.
But when I sat down to actually write, I had way too much fun putting my heroine in problematic situations.  It's not very nice of me.  Sigh.  Anyway, the uncharitable checklist for my heroine, Ophelia Flax, looked something like this:
5 Ways A Practical American Girl Could Get Into Trouble in the Black Forest
1. Give her regrettably large feet that no fairy tale princess would ever have, and blisters from the stolen boots she's wearing.
2. Have her con her way into a maid's job, and the employer get bumped off soon after.   Will not look good in future letters of reference.
3. Make her realize she could be falling in love while awkwardly hiding under a bed with a handsome gentleman . . . while she's disguised as a gentleman herself.  In muttonchops.
4. Let her be clueless about glamorous masked balls and show up in the Number One most unflattering costume of the evening.
5. Make her get chased through the woods.  By armed thugs on horseback who may or may not have anything to do with a missing treasure and the glittering, dangerous casino in Baden-Baden.
Of course, I still want the best for my heroine (I swear) so . . .
*Give her courage, wit, a tart tongue, and a tender heart.
Ophelia Flax will find true love her Happily After Ever . . . eventually.  In the meantime, I'm going to keep her extremely busy because this only the first book in the series, and I'm having way too much fun with my checklists.
            "I simply must have you at my side this afternoon, Flax," Mrs. Coop said.  "I've come down with a sick headache, but I wouldn't miss Professor Winkler's gold test for the world.  Tighter!"

"I'm doing my utmost, ma'am," Ophelia said, straining to cinch Mrs. Coop's corset laces.

After luncheon, Mrs. Coop had returned to her cream-and-gold jewel box of a boudoir, high in a turret of the castle, to change into her afternoon gown.  She'd been breathless and disheveled, and determined to shrink her waist to a smaller compass.

Mrs. Coop's disarray, and her sudden wish to appear pixie-like, resulted, Ophelia suspected, from the presence in the castle of either Princess Verushka or Mr. Royall Hunt.  Mrs. Coop and Miss Amaryllis had made the acquaintance of these two fashionable personages at some point in the last two weeks' frenzy of excursions into Baden-Baden.

"You must," Mrs. Coop said, "stay by my side with my smelling salts, should I need them, and fetch me glasses of water and whatever else I may need.  I am not well, Flax—even Mr. Hunt noted that I'm white as a lily—yet this is perhaps the most thrilling day of my life."

"Yes, ma'am," Ophelia said.

"Just think!  Snow White's cottage on my own estate.  And a dwarf's bones!"

"Mm."

"Do I hear doubt in your tone, Flax?"

"Truth be told, ma'am, it is difficult for me to believe that that house belonged to creatures from a storybook."

"Difficult to believe?"

"Well, ma'am, near impossible."

Ophelia had performed with P. Q. Putnam's Traveling Circus for two years, and she'd known a so-called dwarf.  He'd been a shrimp, true, but there hadn't been a thing magical about him.  Unless you counted swearing like a sailor and smoking like a house on fire as magic.

"Of course."  Mrs. Coop sniffed.  "I nearly forgot you're a Yankee."

Ophelia held her tongue; she was stepping out of character.  It had to be the result of exhaustion.  Mrs. Coop and her stepsister Amaryllis—they had, Ophelia had learned, different mothers—kept her on her feet from dawn to dusk, arranging their hair, pressing their clothing, mixing beauty concoctions, and running up and down the spiraling castle stairs fetching things.

But how could anyone past the age of pigtails think Snow White and the seven dwarves had really existed?
About the Author
Maia Chance writes historical mystery novels that are rife with absurd predicaments and romantic adventure.  She is the author of the Fairy Tale Fatal and The Discreet Retrieval Agency series, and her first mystery, SNOW WHITE RED-HANDED, will be released in November 2014 by Berkley Prime Crime.
Maia is a candidate for the Ph.D. in English at the University of Washington.  This means that the exploits of Fairy Tale Fatal's heroine, variety hall actress Ophelia Flax, were dreamt up while Maia was purportedly researching 19th-century American literature and fairy tale criticism.  The Discreet Retrieval Agency series was born of Maia's fascination with vintage shoes, automobiles, and cocktails combined with an adoration of P. G. Wodehouse and chocolate.
Upcoming titles include COME HELL OR HIGHBALL (St. Martin's Press, 2015) and CINDERELLA SIX FEET UNDER (Berkley Prime Crime, 2015).  Maia lives in Seattle, where she shakes a killer martini, grows a mean radish, and bakes mocha bundts to die for.
Website | Facebook | Twitter | Goodreads