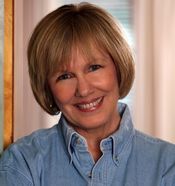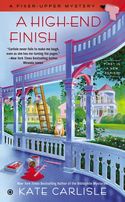 You know how when you start something new, a job or a hobby, suddenly, everywhere you look, you're reminded of it? The world hasn't changed, but your perception of it has. Things your gaze would've skipped over in the past command your attention now. Like if you start scrapbooking for the first time in your life, and you begin to notice scrapbooking supplies in every store on the planet. (Seriously, what's up with that?)
That's what's happening to me right now. I've started a new series—the Fixer-Upper Mysteries—and now reminders are everywhere! Shannon Hammer owns Hammer Construction, specializing in renovating Victorian homes in her hometown, Lighthouse Cove, California. One assumes, despite their phallic shape, that lighthouses are incapable of reproducing themselves, and yet everywhere I look these days, I see lighthouses. In ornaments, paintings, real life…
Shannon has a dog and a cat. The dog is a Westie, surely one of the cutest breeds on earth. Before I wrote A HIGH-END FINISH, maybe I caught one of those Little Caesar commercials every now and then, but now, it's a full-on Westie takeover. Knitted into sweaters, woven into purses. And, of course, actual Westies smiling up at me from all sides.
A friend sent me a picture from Austria, of a group of men re-roofing a house in the Alps. Gorgeous scenery in this picture, interesting construction technique. And yet my first thought, I kid you not, was, "Now that's A HIGH-END FINISH! You don't get much higher than that."
I hope all these lovely little reminders are the universe's way of telling me that the Fixer-Upper Mysteries are going to be a hit because I am having more fun than should be legal writing them. My dream is to alternate writing the Fixer-Upper Mysteries with the Bibliophile Mysteries for years to come.
In A HIGH-END FINISH, Shannon discovers a body in the basement of a beautiful Victorian home she's been hired to restore. The victim was killed with a tool from the construction site. A pink tool. Shannon's. Worse, the last time the man was seen in public was at the end of a blind date gone wrong, with Shannon threatening to hurt him if he didn't leave her alone. Who do you suppose the handsome new police chief should suspect? With the help of her friends, her dad, and a mysterious crime writer who has just moved to Lighthouse Cove, Shannon must track down the killer who's trying to frame her for murder.
What is your job or favorite hobby, and how do you think it impacts how you see the world?