Paranormal is back! Not that it ever really went away, but like everything else in romance-land, trends glut the market. For a while, vampires were everywhere. You couldn't open a romance without bumping into a demon, a dragon, or a ghost. It became difficult to find regular contemporary romances, and only the historicals had just humans in the mix.
Then the tides changed. Contemporary began sweeping back in. Hello Fifty Shades of popularity! Erotic and mainstream contemporary were back. In 2014 in particular, this was good news to me as I had a brand new series I'd released. It was a lot of fun, but I had to adhere to rules. Just because my hero wanted to be right next to the heroine didn't mean he could teleport there or dematerialize into a bat and fly there. But the challenges involved in sticking to the rules were exciting. So I've been writing contemporary a lot lately.
Then the opportunity to revisit a favorite group of shapeshifters came my way. Paranormal romance is once again building steam, and I couldn't be happier. The Mark of Lycos series features shapeshifters who exist on the fringe of everyday society. I didn't want them mingling with regular people in the city. They live in the Great Forest in Alaska. They deal with sorcery, demons who aren't (as a species) evil, and other shapeshifters. The spirits in their world shape how the characters interact.
The books have added content now, and they've been re-edited and given some stand-out covers. Take a look…
Now for an insight into book one, ENEMY RED.
ENEMY RED releases March 15th 2016. With shows like Teen Wolf, The Vampire Diaries, Supernatural, Ghost Hunters, and now Lucifer on television, I think it's obvious that viewers are interested in things that go bump in the night. So what better time than to bring my shapeshifters and demons back out to play?
In Enemy Red, an alpha wolf and enemy wolf butt heads while trying to figure out how to confront an evil bent on destroying the alpha and all she holds dear. But the enemy wolf isn't just any wolf—Fenris wears the Mark of Lycos, a symbol of great power. Fenris is unique, a creature of imbued power and the strength of spirit, mind and body only found in a werewolf. The Wolf in the Forest, the great spirit over all shapeshifting wolves, has granted Fenris the ability to do great things. But he must have the courage to take on the responsibility that is his destiny.
Gotta love that destiny stuff, hmm? *big grin* Enjoy your paranormal, and check out ENEMY RED, coming March 15th from Totally Bound Publishing.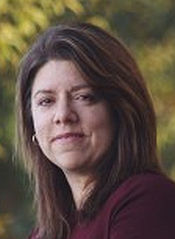 Caffeine addict, boy referee, and romance aficionado, USA Today bestselling author Marie Harte has over 100 books published with more constantly on the way. Writing romance, and in particular erotic romance, across the genres, she's created stories set on other worlds, among paranormal creatures, and between normal men and women seeking true love.
Marie is a confessed bibliophile and devotee of action movies. Whether hiking in Central Oregon, biking around town, or hanging at the local tea shop, she's constantly plotting to give everyone a happily ever after. Visit her website and fall in love.
NY Times and USA Today Bestselling Author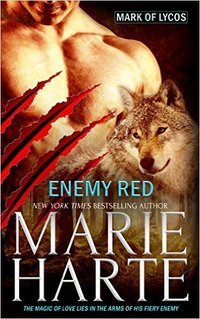 The magic of love lies in the arms of his fiery enemy.
No one likes an arranged marriage, and Fenris, a golden wolf in the Silver Clan, plans to avoid it as long as he can. But the Wolf in the Forest has heard the prayers of another and grants the female her wish.
Unfortunately for Fenris, his destined mate is an alpha in her own right, and an enemy who plans on taking the Silver Clan, and Fenris, apart one bite at a time.
Until Fenris bites back.
Publisher's Note: This book has been previously released by Totally Bound Publishing. It has been revised and re-edited for re-release.
Reader Advisory: This book contains scenes of F/F intimacy and ménage.