My first book, a paranormal novel called THE DEVIL'S CHILD, was published in 1983. Since then I've had over thirty books published world-wide. Has my writing improved? I certainly hope so! Has my style of writing changed? Not really. Let me explain.
For me, writing has always flowed quickly from brain to paper. No matter what my book's genre may be, it's the characters who are important to me. If I get them right, then they will help me write the story. They often take over, and I go down highways and byways that I had never originally intended, but for me this works well. If it's not broken, then don't fix it!
The character's names are vital for me too. I always need a vivid picture of the characters in my mind, and their names must suit them, their role in the story and appeal to the readers, whilst at the same time if possible they should reflect the type of person they are. David is a name that I used for a character who was, outwardly at least, very correct and professional. When he turned out to be totally different the surprise at the life he led was greater than if he'd started out with an exotic foreign name. The hero of my new novel WHEN DARKNESS FALLS is called Rufus, and for me you know at once that someone called Rufus is going to be interesting and charismatic. The husband of my heroine, Abigail, is called Dominic. He's a doctor, and I think that Dominic is a solid, trustworthy name, which reflects his character.
The way in which my writing has improved is hard to define, but it's smoother. I can tell the difference between my early books and my later ones, and it's quite a shock. Even though I have always had an editor, my writing flows better these days, and I hope I've learned to edit myself when it comes to overusing some of favourite words. I'm not going to say what words or people will start checking my books for them! The more you write the better you get, providing you have a good editor at the beginning.
Finally, always write about something that interests you. Don't worry about the latest best-seller, write from the heart. If there's a story you desperately want to tell, then tell it, and tell it in your own way. Your passion will show through and grip the readers. Just put down the first word and start. Trust me, the book will grow, and if you can't get it published or you self-publish and it doesn't do well, don't give up. Writing, like any other job, improves with practice. I had two rejections before my first novel was published, but later I re-wrote both of those books and they went on to be successful. Sometimes you have to wait for the right time for a book to be published. The market changes very quickly, but eventually the time will be right for whatever it is you've chosen to write about.
I feel very lucky to have been able to write novels for so many years and in many genres. I can't think of a better way of life. Yes, there are frustrations, and times when you feel you'll never get to the end or that the whole book is dreadful, but these feelings are normal. Stick at it and keep believing in yourself. That's what I've done, and it's been a great life, so good luck to everyone who wants to have a go. I wish you success.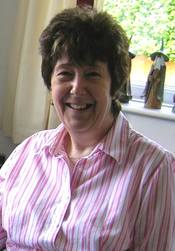 Marina Anderson is the pseudonym of British author Margaret Bingley, whose novels have been published all over the world. Margaret uses this pseudonym for her series of erotica novels. She also publishes erotica for women under the pseudonym Fredrica Alleyn.
When Abby and Dominic move into the beautiful Dower Cottage it seems like a dream come true. But beneath its chocolate box exterior, the cottage holds a terrible secret, and unknown to her; Abby holds the key to rewriting a terrible wrong from the past.
Soon she becomes obsessed by the dark stranger whose spirit is trapped in the attic, a man who teaches her more about herself and new pathways to ecstasy than she had ever imagined possible, until she is lost in his world of dark pleasures and his overpowering need for her.
As their love grows, Dominic fights desperately to keep his wife, and Abby is caught between her husband and her charismatic, jealous lover from the past.
But their mutual obsession will take her to the edge of insanity as she discovers what her stranger needs from her to ensure they are the ones to be together forever.