This is our last post this month showcasing Love's Sweet Arrow. We've enjoyed getting to know more about Marissa, the store, and her adorable dogs! We'll continue to check in with LSA throughout the year. Many thanks to Love's Sweet Arrow for hanging out with us all month long. In the meantime, remember to support your local independent bookstore!! 
Hi everyone! I'm back to do a fun name challenge, acrostic poem style! I hope everyone has been doing well this past week!
L—L is for the laughter we all share in the store (You thought I would say 'love' I bet!)
O—O is for the open doors we hope to have again soon once it's safe!
V—V is for the volumes of love and kind messages we have been receiving since we had to switch to all online ordering, we love reading them!
E—E is for everyone who continues to support us through this uncertain time, we truly appreciate every online order and pre-order!
S—S is for the super bookstore dogs we have and I live with. Lady and Brando are truly my biggest comfort at this time.
*
S—S is for the surprise boxes, which are still available in our online store!
W—W is for weddings, which some romance stories end with!
E—E is for eat, which is something I love to do when I read, especially when I am reading a book with a lot of food!
E—E is for enemies to lovers, which is a trope that can have some real heat!
T—T is for tropes, what is your favorite trope?
*
A—A is for the authors who come to our store for book signings. We are hoping to have more of those in the future!
R—R is for romance, which is what our store is all about!
R—R is for all of the readers who have visited our store so far and the many ones we will have in the future!
O—O is for opening a book (sorry, I know I used open twice, it's been a long week!) and getting lost in a new romance.
W—W is for the wonderful feeling it will be when we are open to readers again!
*
Apparently, I need to expand my word knowledge a little! Anyway, I hope you enjoyed my little name challenge! It's been fun doing this for Fresh Fiction this month, I hope you've enjoyed it too!
Marissa
—
COMMENT TO WIN: Marissa asked what your favorite romance trope is… friends-to-lovers, just one bed, second chance romance, marriage in trouble, best friend's sibling, forced proximity – the options are endless! Tell us what your favorite romance trope is and you'll be entered to win a Love's Sweet Arrow blind date with a book! You'll receive a book wrapped up and it'll be a total surprise. Don't worry – we'll ask you your favorite genre/trope so your prize isn't totally off base. US only – GOOD LUCK!
—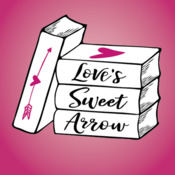 LOVE'S SWEET ARROW is a romance-focused independent bookstore in Tinley Park, IL. LSA has been featured in Forbes, the Chicago Tribune, BTW, Love In Panels, and more. You can find out more about the store (and their adorable bookseller dogs) on Facebook,Twitter, and Instagram. You can also shop their online store, sign up for their newsletter, and check out their Patreon. For more information, please visit http://lovessweetarrow.com.