My new book, MARRY IN HASTE is the start of a brand new "Convenient Marriage" series. It stars Cal Rutherford, an officer in the army, who has just become Lord Ashendon. Cal is a man's man, a career soldier who thinks he knows how to handle women, but really has no idea. Hint: they're not the same as soldiers; strangely, women don't take kindly to being ordered around.
Cal does, however, know how to kiss.
Here he is walking our heroine, Emmaline Westwood home at night, after she was caught up in a brawl at a political meeting. They're in Bath. It's their first kiss.
He broke off, noticing, in the light of the lamp overhead, a stain on her otherwise pale face. "Stand still," he ordered, and when she glanced at him in surprise he caught her by the shoulders and turned her toward the light.

A bruise was forming on her cheekbone, and dried blood made a dark crust around one of her nostrils. And, now that he looked, drops of blood stained the front of her clothing.

"Dammit, you were injured too. Why didn't you say something?"

Flustered, she tried to move away. "I'm perfectly all r—"

"Don't move, I said." He cupped her face gently in his hands, the better to examine her injuries.

Or so he told himself.

He'd left his gloves at Galbraith's hotel. His hands were bare but warm. Her skin was cool from the cold night air, silky and damp from the mist. Pale and soft as moonlight.

The darkening bruise on her cheekbone woke an anger in him that surprised him. He gently smoothed his thumb along her jawline. She stiffened.

He cradled her face in the lightest of holds and studied her. She stood motionless, expressionless: a trapped doe braced to flee.

She had only to pull away or say something and he would release her. He could feel the tension vibrating through her, but she said nothing.

Her eyes watched, wide and dark, twin pools of mystery, colorless in the night.

She made not a sound. He could feel her breath, soft and warm.

Her cool, silky skin was warming under his fingers.

Her mouth—God help him—her mouth was dark and luscious and damp and enticing. Without thinking he bent to taste it, a light, swift kiss that somehow . . . lingered.

She stiffened a moment, then made a soft little sound and her mouth softened under his. She tasted . . . oh, lord . . . rose petals and moonlight and innocence. And beneath it all lay heat, luscious womanly heat.

Ravenous hunger went spiraling through him. He drew her closer to deepen the kiss, but she resisted, pushing back at him with a little sound of anger. Or distress. He released her instantly.

She stumbled back a few unsteady paces. He put out a hand to support her, but she jerked away. One burning glance at him through wide, unreadable eyes and she turned her back on him, taking deep unsteady breaths that gradually calmed.

He watched her, pulling her composure back together like a suit of armor.

His own pulse was still pounding. His brain made no sense of what had just happened. He hadn't intended to kiss her. He barely knew her. She was a respectable woman, a teacher in a girls' school. Practically a nun.

Though that mouth didn't belong on any nun. And now the taste of her was in his blood . . .

He should probably apologize, but he was damned if he would. He didn't regret a thing, only that it hadn't lasted nearly long enough. And that he'd been raised a gentleman.

The uncivilized part of him wanted nothing less than to possess her, to plunder her sweetness, to ravish that lithe, slender body until they were both sated and—

She turned back to face him, her expression smooth and calm as a pail of milk. "Shall we move on?"

—And to shatter that damnable ever-present composure. There was a passionate woman beneath it, he was sure; he'd tasted it in her. His blood had leapt in recognition.

But if that was how she wanted to play it, pretending the kiss had never happened, he would cooperate. He was, after all, a civilized man.

And dallying with innocents was playing with fire.

He offered his arm and, after the faintest of hesitations, she took it. They walked on in silence.

Around them the city slept. In the distance a vixen screamed.
From the award-winning author of The Summer Bride comes the first in a charming new historical romance series where marriages of convenience turn into true love matches.
Major Calbourne Rutherford returns to England on the trail of an assassin, only to find he's become Lord Ashendon, with the responsibility for vast estates and dependent relatives. Cal can command the toughest of men, but his wild half-sisters are quite another matter. They might just be his undoing.
When he discovers that Miss Emmaline Westwood, the girls' former teacher, guides them with ease, Cal offers her a marriage of convenience. But strong-minded and independent Emm is neither as compliant nor as proper as he expected, and Cal finds himself most inconveniently seduced by his convenient wife.
Emm knows they didn't marry for love, yet beneath her husband's austere facade, she catches glimpses of a man who takes her breath away. As pride, duty and passion clash, will these two stubborn hearts find more than they ever dreamed of?
Romance Historical [Berkley Sensation, On Sale: May 2, 2017, Mass Market Paperback / e-Book, ISBN: 9780425283813 / eISBN: 9780698411630]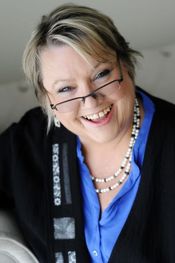 Anne Gracie started her first novel while backpacking solo around the world. After four historical romances published by Harlequin, she moved to Berkley with The Perfect Rake, and never looked back. She's now writing her third series for Berkley. She also wrote the novelization of the first "The Tudors" TV series.
Anne is a former president of Romance Writers of Australia, a five time RITA finalist, has twice won the Romantic Book of the Year (Australia) and the National Reader's Choice Award (USA) and has been several times been listed in Library Journal (USA) best books of the year and NPR's best books listing.