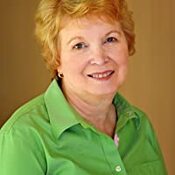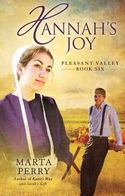 "Challenge?"  I noticed someone saying recently in a discussion of Amish fiction. "What's challenging about that—just put a woman in a bonnet on the cover, throw in a horse and buggy, and you're in!" If only it were really that easy!
Despite the number of Amish books I've written, I faced what was for me a unique challenge in my latest book, HANNAH'S JOY, the sixth book in the Pleasant Valley Amish series. Hannah, I decided way back in the planning stages, was going to be a Mennonite whose family had drifted away from the faith. This would allow Hannah to be an Army widow who returns to Pleasant Valley after life on a military base, which gives an immediate and I hoped striking contrast between military culture and the non-violence of the Plain groups. And since I grew up around a number of Old Order Mennonite families, I should be able to write that aspect of the story without difficulty.
Needless to say, I was wrong! I had forgotten more than I realized about my childhood friends, and to make the story real, I not only had to nail all of the tiny details of differences among Amish, horse-and-buggy Mennonites, and black-bumper Mennonites, I had to be able to communicate the subtle shadings of belief which cause the groups to live their faith in different ways. Maybe some readers wouldn't notice, but the dedicated readers of Amish fiction know their genre, and they take serious offense at the writer who makes an error!
Who wears which type of head covering, and why? How is the meetinghouse of the horse-and-buggy Mennonites different from that of the black-bumper Mennonites, and more different still from the house and barn worship of the Old Order Amish? What will be their reaction to Hannah's presence, and how will Hannah's English friends react to Hannah's new life? I was soon lost in a mass of research and notes, trying to swim my way through to the other side.
In the end, though, the story came down, as it always does, to the basic conflict of the characters involved. Will Hannah be able to find her way to a new home despite opposition from all sides? And will shy, stuttering William find the courage to speak for the woman he loves? I hope so!
Comment today to win a copy of HANNAH'S JOY
To comment on Marta Perry's blog please click here.