My favorite scene from HIGHLAND SPITFIRE is this one, at the wedding feast. One of the challenges of writing historical is to remember that these people are not modern ones. At least, that's my personal challenge. I don't want to write a story about a modern woman with just the 'fun' parts of history. Sure, I draw the line at some of the more unsavory bits that history has to offer but it's important to me to try and make these people real to their time.
A lot of people think that because you were born the daughter of a laird, you got to be waited on all day long. The truth was, a lady was someone who was highly educated and her role in the future of the clan was set from the moment she was baptized. This is very true for the laird's son too. What they might have personally wanted really didn't factor in. For sure there were nobles that were spoiled so badly that they lost touch with the real world but I don't see that happening in the Highlands. Life was simply too hard to allow for any member of the clan to be so lazy and a burden on others.
Here, in this scene, Bhaic and Ailis are sitting at a table while all of their kin watch. Neither of them wants to be there. They have been raised to hate each other, yet they were both also raised to shoulder the responsibility of putting the welfare of their clan above their personal desires. I loved writing this part, where Ailis sees her discarded wedding wreath and realizes she is giving people a reason to fight. She also realizes that the staff is seeing her attitude as just that, attitude. In this time, very few people wed for affection, in fact, love was considered a form of insanity.
Now that is where I move a little away from the historical realities. I want my characters to fall in love because I believe people did, in spite of the harsh realities around them. As for Ailis and Bhaic, if you want to discover how they manage to grow close enough together to let love grow, you'll have to read HIGHLAND SPITFIRE!
Cheers!
Mary Wine
Excerpt-
There was a pretty table cloth on the table beneath her plate and beeswax candles burning. Someone had made her a wreath of heather and greens for her hair, but she'd tossed it in front of her plate, and it sat there looking sad. Maybe she shouldn't be so surly. The Head of house cast her a reprimanding look from where she was overseeing the banquet. It wasn't hard to tell what the older woman was thinking. She was judging Ailis a brat. A girl in a woman's body, still throwing tantrums because everything was not as she wished.

Life was often unkind. A wise person learned to take joy when they could find it.

The staff had no doubt been working for days to prepare the decorative foods being presented. Every item set before her and Bhaic was gleaming from recent polishing. Yet no one gave the staff any word of gratitude. All her kin wanted was to fight with the MacPhersons.

The MacPhersons had exactly the same thing on their minds. Scathing glances flew between tables as muffled curses mixed with the music. Ailis looked up at the musicians in the alcoves. Music was a rare treat. Most of the time, the days were too full of chores for anyone to have the inclination to play an instrument during supper, and here her kin were, wasting the moment. Ignoring the pleasures while they plotted more bloodletting.

Perhaps the earl had a point.

She felt guilty for even thinking it, but, she could see the logic in ending the feud that had gone on for so many years.

Ailis sighed. She reached for the wreath and put it on.

"Pleased with yer circumstances after all?" Bhaic asked, cutting her a hard look. "Was this all a plot yer father hatched to further steal from the MacPhersons?"

Her eyes grew round as her temper boiled. He was a huge man, intimidating. He was scowling at her, but that didn't change the fact that they were both being rude to the staff.

And she was done with it. She focused on that thought because ill manners were more than MacPherson or Robertson.

"I'm thinking I'm past the age of sulking." She reached for her goblet and took a swallow, forcing a serene look upon her face.

Fury flickered in his eyes and he leaned closer. "Is that why yer father had to resort to plotting with the earl to get ye a husband? Because no one in their right mind would want to steal away a Robertson harpy who is long in the tooth?"

The tiny bit of contentment she'd managed to cultivate shriveled and died. But instead of allowing her temper to rise, what she felt was a twinge of hurt that he might judge her so harshly.

His voice had risen, causing the men below them to look up at the high table. Some of her father's men growled, and there was a clear answer from the MacPherson.

Bhaic stiffened and looked at their audience.

The goblet shook in her hand as she faced the very real circumstances of their union. Mortons words rose from her memory.

Prayers for the living or the dead….

"I've made my choice so make yers…." Ailis whispered. "All they wait upon is a small quarrel between us to begin the fighting. I confess I would rather no' give it to them. Being agreeable is no' too much for me to accomplish, no matter what insults ye care to label me with."

He titled his head toward her so their gazes locked. Something in his eyes sent a ripple of awareness through her. Her heart accelerated as she realized there was no hope of success unless he joined her.

"Ye are more woman than lass." There was a touch of something that might have been admiration in his tone, if she were given to entertaining the idea that he could feel anything but hate towards her.

"I'd rather no see blood spilt either," he said slowly as he made an effort to soften his expression. She could see the resistance glittering in his eyes and knew he saw the same in hers. Yet she maintained her soft smile and he forced his lips into an easy line.

A Robertson and MacPherson, united in a common goal.

Inconceivable, yet it sat on her shoulders and his in that moment.

A moment of unity she'd never imagined, but discovered herself proud of. Yet it was a shared achievement.

She had no idea what to think of that fact.
Giveaway
What is your favorite scene in a romance set in Scotland that is "of its time?" Tell us below and one person will win a copy of HIGHLAND SPITFIRE.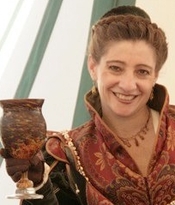 Mary Wine has written over thirty novels that take her readers from the pages of history to the far reaches of space. When she's not abusing a laptop, she spends time with her sewing machines…all of them! Making historical garments is her second passion. From corsets and knickers to court dresses of Elizabeth I, the most expensive clothes she owns are hundreds of years out of date. She's also an active student of martial arts, having earned the rank of second degree black belt. Mary lives in California with her husband and two sons.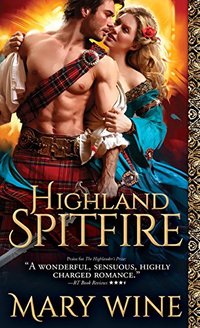 New from Mary Wine, the queen of sizzling, page-turning
Scottish Historical romance
Passion flares between enemies
Two hotheaded Highlanders, the offspring of feuding
lairds, are tricked by the King's Regent into a desperate
choice: marry or die. Bhaic MacPherson is more disposed
to lead his clan into battle than stay married to the
daughter of his enemy. But perhaps the intensity of his
feelings has more to do with desire than hostility.
And the Highlands ignite
Ailis Robertson wanted a husband, not a savage-but when
her family was faced with a deadly ultimatum, she had no
choice. The union of a MacPherson and a Robertson could
end three generations of hostilities between the two
families, but can bitter rivals truly become lovers?