So many fictional boyfriends, so little time. Here are a few of my favorites, in no particular order (okay, I'd cut you to get with Hardy Cates):
Rowdy Yates from GETTING ROWDY by Lori Foster.
With his sketchy past, and his penchant for hitting first and asking questions later, Rowdy is a great protective alpha. And the cover for this book is perfection.
Flynn from WILLING VICTIM by Cara McKenna.
Construction worker-boxer with a taste for rough role-playing, and while we never get inside his head, McKenna lays it all out there. A Boston bruiser I wouldn't mind meeting in a dark alley.
Hardy Cates from BLUE-EYED DEVIL by Lisa Kleypas.
Rich, Texan, from the wrong side of the tracks, and so caring of the heroine. LK writes the caretaker alpha so well, and Hardy is my favorite of her heroes.
Joey Miller from COLLISION COURSE by K.A. Mitchell.
This is an M/M romance and while some people probably prefer the brooding Aaron of this pairing, I love, love, love the manipulative, puppy-eyed, totally grounded Joey. A surfing social worker, he's the perfect match for a guy who's been screwed over by the social services system.
Lord Vere from HIS AT NIGHT by Sherry Thomas.
He's a secret agent posing as a society idiot! What's not to love?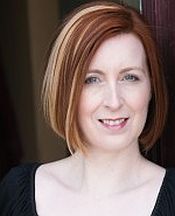 Originally from Ireland, Kate cut her romance reader teeth on Maeve Binchy and Jilly Cooper novels, with some Mills & Boon thrown in for variety. Give her tales about brooding mill owners, oversexed equestrians, and men who can rock an apron or a fire hose, and she's there. Now based in Chicago, she writes sexy contemporary romance with alpha heroes and strong heroines who can match their men quip for quip.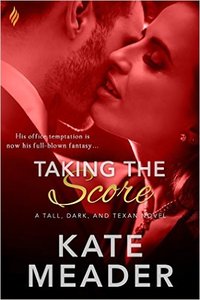 A sexy category romance from Entangled's Brazen imprint…
His office temptation is now his full-blown fantasy
Paying down her sister's debts has left personal assistant Emma Strickland with little more than the thrift store suit on her back. And as if the suckfest couldn't get worse, she's forced to get a second job as a waitress to support herself and her cat. At a strip club. Her uptight, sexy-as-hell boss Brody Kane can never find out.
Texas property tycoon Brody Kane hired Emma for her spreadsheet skills, but her prim and proper demeanor sealed the deal. There's no room in his life for a sexy distraction and yet, he can't stop lusting after the delicious Ms. Strickland.
But then he takes an important client to a Chicago strip club and gets the worst lap dance in adult entertainment history. From Emma.
Now that he knows his office good girl has a naughty streak, Brody makes it his mission to uncover her secrets, one illicit, over-the-desk encounter at a time. But Emma is hiding more than her side job, and her final secret could end up destroying them both.