That Wallflower Moment…when the hot guy doesn't see you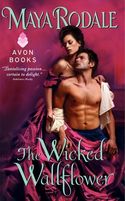 Why do the hot guys fall for the mean girls (like Lady Katherine Abernathy, whose acquaintance in the second stop on The Wallflower Moments Blog Tour?) Perhaps it's because all too often they don't even see the wallflowers. Lady Emma, heroine of THE WICKED WALLFLOWER, learns this lesson at the worst possible moment: when she's finally waltzing with a handsome beaux and in the midst of falling in love with him when she's accidentally interrupted by none other than the Duke of Ashbrooke, who is the most charming, scandalous, gorgeous rake the haute ton has ever seen. Check out today's excerpt below, in which the hot guy doesn't see my wallflower and and then join me on the rest of The Wallflower Moments Blog Tour!
Excerpt: THE WICKED WALLFLOWER and the disastrous encounter with the duke
Lady Emma's perfect moment waltzing with Benedict Chase came to an abrupt end when a large, hulking masculine body stepped backwards and bumped into her. The force of their collision sent her sprawling to her knees on the parquet floor of the ballroom.
Emma peered up at the horrible, inconsiderate brute and found herself looking at the most breathtakingly handsome man she had ever seen. He could only be the duke of Ashbrooke, an infamous scoundrel who made frequent appearances in the gossip columns.
"My apologies. Didn't see you there," the duke said with a smile that was renowned for melting hearts and weakening women's resolve.
Emma just scowled. Of he didn't. Men like him never paid attention to girls like her.
Question: Did you ever had a crush who didn't know you were alive?
After Lady Emma Avery "accidentally" sends The London Weekly the notice of her betrothal to Blake Lovelace, Duke of Ashbrook-a man to whom she is not acquainted, let alone engaged-they embark on a sham engagement. As one does with so much at stake…
The Duke has just created a scandal so great that he may never be received again (Two words: twin sisters), let alone inherit a desperately needed fortune from his Oh-So-Proper Aunt Agnes. Reform-or the appearance of it-is the answer. What better way than to partake in a betrothal with one of London's Least Likely To Misbehave?
Ashbrook persuades Emma to embark on a sham engagement in spite of her protestations that he's beyond insufferable…and then he begins to seduce the one woman impervious to his charms, only to discover this wallflower may not be such a shy, retiring miss after all.
To comment on Maya Rodale's blog please click here.