Chapter 7
Of Love and Pies
"So, Isa, dish out the details. What's the deal with Diego?" Pippa asks.
I shrug and bite into the best fraisier cake I've ever had. I chew slowly, hoping they'll find something else to talk about—something that isn't "the hot Spaniard."
It's finally Friday. Week one in Chef Grattard's kitchen has come and gone and all I have to show for it is a bandaged finger and spoon thirteen sitting at the bottom of the rack. Not exactly what I had in mind.
To celebrate this grand accomplishment, Pippa invited us to Pâtisserie Lulu, her favorite spot in Lyon, where we've been sitting outside, watching people walk by on the street.
The only good thing to came out of this week is my new uncanny ability to memorize Chef Troissant's instructions. It turns out fear is a great motivator. Take yesterday, for example: she was teaching us about French cheeses and opened a wooden box containing a small wheel of Époisses de Bourgogne. It has a sticky orange rind and a smell reminiscent of sweaty gym socks and filthy barn animals that's led to it being called the stinker of all cheeses. While everyone else scattered in disgust to various parts of the kitchen, somehow I managed to focus through the nausea-inducing smell and hang on to Chef Troissant's every word. If I didn't know any better, I'd think she was a little impressed.
"This is so good." I take another bite of the fraisier and lick a dollop of cream off my fingers. "What does she put in this stuff? Is this champagne?" I pass my plate around so they can try it.
"I told you, Chef Lulu's brilliant." Pippa bites into a fruit-filled pastry. "Cherry and thyme. It's delicious. Here, try this one." She gives me a bite and I close my eyes in pure, sugary bliss.
"This French churro-thingy is amazing. It's filled with mascarpone and dulce de leche." Lucia dunks her fried pastry into a small porcelain cup full of hot chocolate. When she brings it to her mouth and chews, her body sags into the chair in evident pleasure. "I'm not sharing mine," she teases.
"Okay, Isa, I'm not letting you off the hook. Back to the hot Spaniard . . ." Pippa says, and I roll my eyes.
"Looks aren't everything," I say, trying to sound blasé.
"But he must be smart too. His school is one of the best in Spain. A few kids from the royal family have gone there," Lucia says, with a little too much enthusiasm. I don't know why, but the fact that she knows that insignificant detail bothers me—more than I care to admit.
"You wouldn't believe the first thing he ever said to me." I tell them how we met in the market before we knew who the other was. "He told me he wanted to take me to a field! I mean, how creepy is that?"
"I think it's kinda nice," Lucia says hesitantly. "There are some beautiful fields around here."
"Call me crazy, but I'm not in the habit of meandering into desolate fields with total strangers. That's how girls go missing. Or worse!"
They burst out laughing, clearly not taking any of it seriously. In her laughing fit, Lucia stumbles forward and almost spills all her chocolate onto the table. We blot the mess with a pile of napkins.
"Oh come on, Isa. Give the guy a break. He doesn't strike me as the serial murder type," Pippa says. "Too hot."
"Maybe he just wanted to go to a field and pick cherries," Lucia adds. "I'd go with him."
"Yeah, I guess." Maybe I do need to work on this city-girl paranoia thing.
"All I'm saying is," Pippa adds, edging closer and looking only at me, "if you don't want him, someone else will." Then she points at herself and Lucia. "We have two takers at this table."
Lucia gives a loud um-hum.
I shift on my chair, suddenly uncomfortable. Why am I so bothered by the idea of Diego being with someone else? It makes no sense.
They can have at him, for all I care. Right?
"A date with the guy is not gonna kill you," Pippa suggests.
"I don't…" I begin to say, searching for the right words to express the nagging doubts I've felt connected to anything to do with guys, relationships, and love. Lala gave up her family in Miami to marry Gramps, then moved to middle-of-nowhere. Mom gave up her career to be a wife and a mother. Maybe I'm selfish for thinking in this way, but I don't want to sacrifice my life for love.
After a long breath, I say, "I just don't want to give up anything for a guy."
Pippa nods in understanding. "I broke up with my boyfriend before I came here." She sets both hands on the table as she says, "It had to be done."
"Really?" Lucia asks. "Why?"
"He was older and thinking about the future. I mean, I don't know where I'll be at the end of Grattard's course!" Pippa says.
"Was it hard to break up?" Lucia asks.
"A little," Pippa says, resting back on her chair. "He was pre-med at King's College. He knew a lot about the human anatomy." She lifts both eyebrows, and her cheeks crimson. Lucia and I cram closer over the table, leaving no space between our shoulders. Pippa's British accent makes her story all the more compelling.
"Once, we sneaked into a lab after hours and fooled around a bit," Pippa snickers. "Nothing too wild. Making out, that sort of thing."
"When was this?" I ask.
"Last semester," she says.
What was I doing last semester? Not making out in a lab, that's for sure.
"Were you in love with him?" Lucia asks.
"Not really." Pippa shugs. "He was nice and all, but I just wanted a good time, you know?"
I nod. Like I know. But I really don't.
"At our age, who wants anything serious? Who has time? We're in school for a million hours every day. And an apprenticeship is going to be even more work. I don't want to be pining after some bloke who's sucking all my energy. There's no room for distractions, ladies. I mean, less than ten women hold three Michelin stars in the entire world! It's total bollocks."
We all go silent for a moment. I consider the odds stacked against us. It is total bollocks.
"Totally," is all I can say, even though I've never had what you'd call a "proper boyfriend." Tack it onto the list of things I've sacrificed for extra time in the kitchen. The most I've advanced in the "fooling around" territory was that time my next-door neighbor and I made out one afternoon after school. He was a year older than me and we'd grown up together, so inevitably, after the awkward puberty phase passed, we had a moment.
It was weird and uncomfortable. It wasn't love and it definitely wasn't a good time.
After he left, I lay on top of my bed, frustrated, wondering if all guys were this awkward and inexperienced.
I bet guys like Diego are perfectly comfortable with all of it. An image of Diego pushes itself into my mind. Suddenly I feel warm, flushed, and uneasy.
What am I thinking?
I take the last bites of the fraisier, hoping to distract myself with the taste of strawberry and champagne. But no matter how hard I push against the image of Diego, it refuses to leave. It roots itself to the back of my mind like a weed that won't die. And what's worse, part of me wants it there.
"Sometimes I hate being a girl," Lucia says with an air of resignation. She leans back on her chair and takes the last bite of her pastry.
"Why?" I ask.
"We have to deal with all this extra stuff guys don't even think about," she says.
"What extra stuff?" I ask.
"Womanhood stuff," she says in a solemn tone. "If Legrand got a girl pregnant, do you think it would matter? He'd still have his own restaurant in ten years—or less! And all the Michelin stars. It's not fair."
"Absolute rubbish," Pippa says. "I'm picking career. I don't see what's so much fun about changing nappies. Trust me, I've done it all. I'm the youngest in my big Jamaican family, so my mammy's house is usually a menagerie of nieces and nephews. I love them all, but they are rowdy, dirty, and loud. I can't imagine having to take care of a kid all the time."
"Not me. I want to fall in love. And I want to get married and have babies," Lucia says, her voice full of conviction and idealism. "When I'm older, I mean—not now. My mom got married and she works as an English teacher. She didn't have to choose."
"All I'm saying is, from what I've seen so far, when you fall in love your brain shuts down," Pippa says. "I'll be damned if that's gonna be me. I'm reaching for those stars and nothing is going to get in my way."
"What about you, Isa?" Lucia asks.
I don't hesitate when I say, "I want all the stars."
(C) Mayra Cuevas, Blink, 2020. Reprinted with permission from the publisher.
***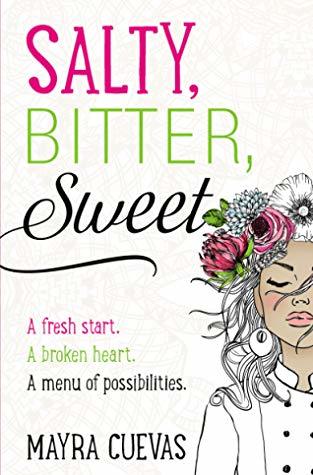 "Happiness, like love, arrives through the kitchen. At least that's what my abuela Lala used to say. I may not know much about love, but I definitely got the kitchen part down."
Seventeen-year-old aspiring chef Isabella Fields' family life has fallen apart after the death of her Cuban abuela and the divorce of her parents. She moves in with her dad and his new wife in France, where Isabella feels like an outsider in her father's new life, studiously avoiding the awkward, "Why did you cheat on Mom?" conversation.
The upside of Isabella's world being turned upside down? Her father's house is located only 30 minutes away from the restaurant of world-famous Chef Pascal Grattard, who runs a prestigious and competitive international kitchen apprenticeship. The prize job at Chef Grattard's renowned restaurant also represents a transformative opportunity for Isabella, who is desperate to get her life back in order.
But how can Isabella expect to hold it together when she's at the bottom of her class at the apprenticeship, her new stepmom is pregnant, she misses her abuela dearly, and a mysterious new guy and his albino dog fall into her life?
Salty, Bitter, Sweet:
– Is a YA contemporary #OwnVoices novel written by CNN producer Mayra Cuevas
– Features a Latina main character who is trilingual
– Is inspired by the author's relationships with food and family
– Explores complicated family dynamics and relatable themes of friendship, acceptance, and learning to care for yourself
Young Adult [Blink, On Sale: March 3, 2020, Hardcover / e-Book, ISBN: 9780310769774 / eISBN: 9780310769774]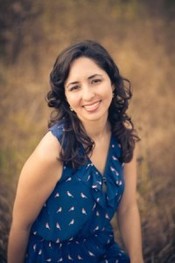 Born and raised in Puerto Rico, Mayra is a professional journalist and fiction writer who prefers love stories with a happy ending. Her debut fiction short story was selected by bestselling author Becky Albertalli to appear in the Foreshadow YA serial anthology in 2019. She is currently a special projects producer for CNN. She keeps her sanity by practicing Buddhist meditation and serving on the Board of Directors of Kadampa Meditation Center Georgia. She lives with her husband, also a CNN journalist, and their cat, in the charming town of Norcross, Georgia. She is also the step-mom to two amazing young men who provide plenty of inspiration for her stories. Her claim to fame came as she and her husband appeared in Season 2 of Buying and Selling with the Property Brothers. Follow her journey on Twitter @MayraECuevas, on Instagram @Mayra.Cuevas and her website MayraCuevas.com.