What book made you fall in love with the genre you write?
Mika Jolie: I've read so many books, but the one I remember the most is The Passionate Lover by Carole Mortimer under Harlequin Presents. I found it at used bookstore and from that moment I was hooked. I'd count the day for her releases and stay up all night and read.
What is your favorite genre?
Mika Jolie: I have such an eclectic taste when it comes to books and music. Having said that, if I had to pick one, it would have to be Contemporary Romance. This genre tackles so many relatable issues that women deal with on this beautiful journey called life. But also, at the heart of those novels is learning to forgive, discovering something new, loving the men in our lives, our families and our friends.
If a movie were made of your most recent book, who would you cast in the lead and why?
Mika Jolie: Lance Parker and Meghan Markle would star as Dean and Coriander. They were my muses while I was writing The Boy Friend. I actually have a whole page on my website dedicated to my muses. Meet the Characters
What was the first story you ever wrote?
Mika Jolie: Well, the one I actually recall and still have somewhere in my memory box is called Chucks. It's a short story, an ode to my great pair of Converse sneakers.
If you could change the ending to any famous book, TV show, or movie, what would it be and how would you rewrite it?
Mika Jolie: Hmm probably How I Met Your Mother. Once Robin and Barney became a couple, I found myself rooting for them. In my revised version, they'd stayed married, he follows her when she gets her dream job. And instead of the Mother being a small part of the story, I'd make the season ending about Ted and Tracy.
What is your favorite part of meeting your readers? New readers?
Mika Jolie: Where do I begin? There's nothing like the ability to actually see the person live, to hug, to talk, to laugh, to discuss characters that moved and provoked them. And really just to get to know everyone on a personal level.
Mika Jolie lives in New Jersey with her Happy Chaos—her husband and their energizer bunnies. A sports fanatic and a wine aficionado, she loves writing about life experiences and matters of the heart. Let's face it, people are complicated and love can be messy. When not weaving life and romance into evocative tales, she can be found on a hiking adventure, driving her boys around to their activities, or sneaking in a date with her hubby.
She loves to hear from readers. Connect with Mika on Facebook, Twitter, Goodreads, Instagram, and Amazon.
For latest news on her current works-in-progress, interviews with fellow authors, or just to see what she's up to, check out her website: http://www.mikajolie.com or sign up for her newsletter where you can hear her latest news and enjoy giveaways.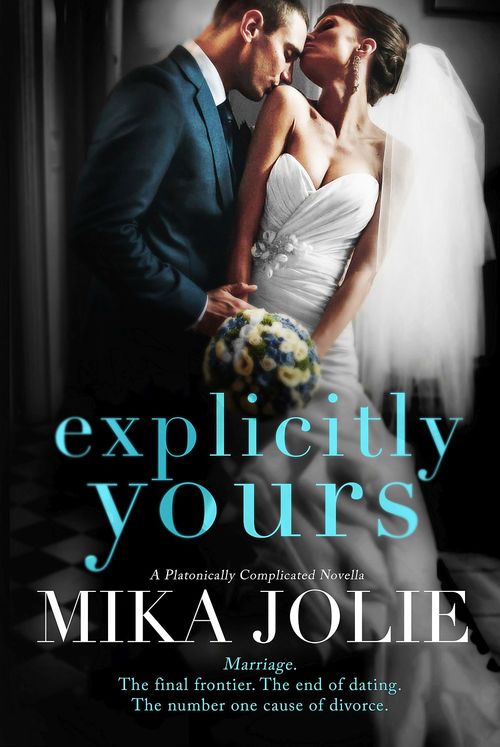 Marriage.
The final frontier. The end of dating. The number one cause of divorce.
I bet you every man who is about to take the plunge experiences a wide range of feelings. As a guy, whose wedding day is only seven days away, I know this.
Anxiety—Nerves are kicking in. Yeah, even confident, cocky guys like me are bound to face nuptial stage fright.
Let's face it, forever is kind of a long time, right?
Excitement—Coriander and I are going to make it official. I'm marrying my best friend, the one I laugh with, live for, dream with.
Nothing can top this moment.
That is until I got the biggest surprise of my life…
Romance Contemporary [On Sale: October 8, 2017, e-Book, / ]
Save