Happy 2016 to you all. I'm so happy to be here today and to talk about my newest book, YOU ONLY. It's a second chance at love story that takes place in a farming community in Indiana. Fifteen years ago when they were young, Finn and Hale were engaged. Hale, the town's princess felt trapped by that life and future. One evening, Finn came home to a good-bye letter, a set of keys to his apartment, and Hale's engagement ring sitting on his kitchen counter. Now Hale has returned to take over her family's farming business. She must find her place in the tight-knit community where memories are long and she must face Finn's wrath. He is still holding onto his anger and confusion at abrupt exit. They find that the chemistry is still there and they must put the past to rest before they pursue their future.
This is my playlist for YOU ONLY.
"When I Was Your Man" by Bruno Mars. The first time I heard this song, the entire story and character names popped into my head.
"Just Give Me a Reason" by Pink and Nate Ruess. Sometimes it's the thoughts in your head that cause the problems.
"Glitter in the Air" by Pink. This song always makes me a little sad. I picture Hale sitting on her porch with Miller, the dog, at dusk with this playing in the background.
"Colorblind" by Amber Riley and the Glee Cast. This is for Finn as he comes to realize that everything he thought he knew about Hale was wrong.
"I Can't Make You Love Me" by Adele (Live Version). I picture Hale hearing this and crying over the years.
"XO" by Beyonce. I was listening to this while I wrote the scene where Hale drives Finn home and they kiss in the car.
"And So It Goes" by Billy Joel. A sad, sad love song for Hale when she thinks that her only chance of love was with Finn and she blew it fifteen years ago.
"End of the Road" by Boys II Men. I listened to this song over and over as I wrote the opening scene.
"She's Gone" by Hall and Oates. An oldie but its smooth listening while I wrote.
"Losing My Religion" by R.E.M.. This song easily applies to both, Finn and Hale, as they start to circle around one another.
"Paradise City" by Guns 'n Roses. I pictured Hale driving fast with the windows down, singing along with Axel after she was treated nastily by some mean women.
"Don't You Want to Stay" by Jason Aldean and Kelly Clarkson. A song of longing and Hale and Finn both experience that.
"Amnesia" by 5 Seconds of Summer. For fifteen years Hale and Finn have wanted to be able to forget about the other.
"In The End" by LINKIN PARK. After Finn fired Hale and acted like an ass, she played this song as she drove into town to turn over the accounting records wearing her "badass bitch" outfit.
"I've Been Loving You for Too Long" by Otis Redding. I think this would be the perfect song to have playing in the background as Finn watches Hale drive away after telling him her painful secret.
"Making Memories of Us" by Keith Urban. I'm convinced that Finn listens to this.
I'll be honest there are about thirty other songs that played while writing but these were the ones that I played the most.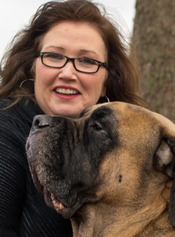 I live on a grain farm southeast of Indianapolis, Indiana with my very patient husband of twenty-five years and our two English Mastiffs, Buster Brown and Ginger. I graduated from Indiana University when it was the #1 party school in the country and I took great pride in helping the school achieve that ranking.
I haven't figured out what I want to be when I grow up. I change careers every decade. I have worked in retail, a federal courtroom, travelled across the state closing loans, and behind the scenes in a casino.
I've always had an active imagination so when a good friend suggested that I try writing a book, I thought why not, it should be fun. It has, but I have had to work very hard to learn how to do it. I am so lucky for the outpouring of advice and education from so many in the industry, plus the hand-holding and cheerleading from My Gurls. I also have an incredible Ad-man-istrative Assistant, who tries to keep me under control. He rolls his eyes so much that I worry about a permanent condition.
When I 'm not working or writing type stuff, I sleep, watch courtroom TV shows, and sports. I was a competitive pro-am ballroom dancer for ten years and I read as many books as I can.
I love to attend Author-Reader Conventions and look forward to meeting you.
YOU ONLY is an Amazon Exclusive!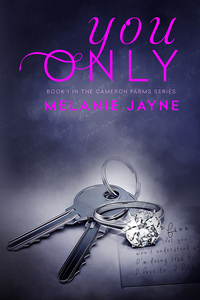 Fifteen years ago the hometown princess ran away…
Her prince, Finn Webber, has moved on but he never forgot his heartbreak. Now, Hale Cameron, his lost love, is back and he is curious. This new Hale is smart, sassy and sexy.
Hale is back home and all grown up. She's smarter and sassier. But there are still things she needs to resolve, one of which is Finn Webber, the guy whose heart she broke. She hopes he can forgive her for her past mistakes. What she doesn't expect is his reaction to her.
Time may have passed, but old feelings are still alive. Find out what happens when the hometown princess comes home and discovers that her prince isn't as immune to her as she believed.