There are many things in life that intimidate me – modern car engines, tax forms, computer viruses. But not wine. Yes, I'm from California. Yes, I worked at a winery (and yes, I feature them in many books). Yes, I've earned a certificate from the prestigious UC Davis wine appreciation program. But learning all the complexities is like learning a foreign language – if you don't use it, you lose it. I admit: I've forgotten more about wine than I've retained. However, because people turn to me for advice about what wine to order, I developed a bit of shorthand.
Do you ever drink wine or spirits? If spirits, is it mixed drinks or straight? Do you drink black coffee or lattes? Do you drink full-sugar soda or diet? Orange juice, cranberry juice, or grapefruit juice? Prefer chocolate for dessert or fresh fruit? Season your steak with salt/pepper, a combination of dry seasonings, or a creamy sauce?
You don't need answers to all the questions, just a starting point, a hint, a clue. And you don't need to follow the "wine rules" (red with red meat, white with fish/poultry). That's old school. My cheat sheet is below. My caveat: this is a system that works for me. You might have different preferences and that's okay, too.
If I'm with people who don't normally drink wine, I veer toward white wine, usually something lighter, like a Sauvignon Blanc. These wines – especially the ones from New Zealand – are very soft and subtle and generally please everyone. Sauvignon Blancs from California tend to have a hint of grapefruit. If you've got full-sugar soda or orange/cranberry juice drinkers, try a Riesling or a Moscato – although these aren't what I'd recommend drinking with your main course, as they're rather sweet. If someone likes lattes or chocolate, a "rich, full-bodied" Chardonnay would be good (stay away from "oaky" Chards for this type of drinker). One warning about Chardonnays: they come in more flavor variations than jelly beans – never assume if you like one Chard, you'll like another. Finally, if you have a mixed bag of flavors being mentioned in your group, try a white wine blend. These are usually lighter in body and flavor, and blended to please a broader spectrum of wine drinkers. Some have a hint of sweetness, some a hint of brown spice or floral notes, so they aren't boring.
If I'm with wine drinkers, I'll veer toward red wine. Merlot is something I choose for people who like creamy sauces and is safe for a mix of wine appreciation levels (it's affordable, hard to screw up and not a wine with tons of different flavors). If people like black pepper and strong spices, I might choose a Syrah or Chianti. If chocolate or lattes come up, I might choose a Pinot Noir, but one from a drier climate (Oregon Pinots taste softer to me). If there were preferences for fruit for dessert, I might choose a Zinfandel or a Shiraz. I'll choose a Cabernet Sauvignon if people like strong flavors (black coffee, pepper, straight spirits) and there is red meat coming to the table (probably the only wine type that I consider doesn't go well with white meat or fish – but that's just me). Remember how I compared Chards to jelly beans? Same applies to Cabs – lots of styles and flavors, therefore harder to pick one that pleases a variety of palates.
Wine is a lot like the different coffee drinks available at Starbucks. You can get a plain, but good, cup of coffee, add different tastes to that cup (shake some cinnamon on top, add creamy whip, etc.), or have the coffee be a complement to heavier flavors (chocolate, caramel, etc.). Whatever fits your mood and your taste buds. Wine does the same thing. Selecting a wine is a little adventure and when you ask people for their preferences, they become vested in that adventure with you (and therefore the adventure's success isn't all on your shoulders). If you're nervous about making a decision, you can always ask for a taste of something to see if you like it before you commit. Have fun!
Although Melinda has lived in Georgia and Texas, she's a California girl at heart. Her earliest memories are of life on an isolated 50-acre sheep ranch in rural Sonoma County, California. Picture rolling hills covered in brown grass, a eucalyptus forest, a long gravel driveway lined with plump sheep and no sidewalks. It was a big deal to drive into town on a one-lane road in a ramshackle, bubble-fendered pickup for an ice cream.
Flash forward to this century. Melinda lives in California's hot central valley with her husband – her basketball playing college sweetheart. With three kids the couple has done the soccer thing, the karate thing, the dance thing, the Little League thing and, of course, the basketball thing.
Melinda writes sweet to medium heat contemporary romances as Melinda Curtis and red hot reads as Mel Curtis. She loves writing romances about women who don't realize how strong they are until a hero comes along to show them, while capturing the wry humorous power struggle of falling in love – because, really, who lets the man have the last word?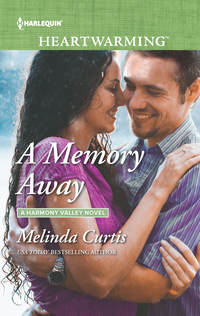 For better or worse, she's family now
Duffy Dufraine just found out he's going to be an uncle.
Jessica Aguirre came to Harmony Valley in search of the father of her unborn child, which is by no means him. An
accident may have damaged the expectant mom's memory, but he knows his twin is the man she's looking for. But Greg's
gone, which leaves Duffy the only family Jess has. And he has to make things right. Offering her a temporary place to
stay seems an ideal short-term solution. Until she stirs desires that make the embattled vineyard manager rethink his
own long-term game plan. Is he ready to offer Jess and her baby a home to call their own—with him?
Print Book available via Harlequin and in Wal-Mart stores on January 1, 2016
Special Offers
Be emailed a FREE sweet romantic comedy by signing up for Melinda's book release email newsletter.