I was inspired to write my 7th novel THE WITCH'S MARKET based on two incidents. About three years ago I read an article by my favorite Chinese author Echo about her trip to the Witches' Market in Bolivia. Though the article was short, somehow the title capered my imagination and I decided to write a whole novel about the witches' market – when I had no idea what this novel would be about.
However, instead of setting my novel in Bolivia, I decided to make it happen on the Canary Islands. These seven islands are guarded by goddesses who are also safe keepers for the hidden golden apples of Aphrodite. Sailors seeking the legendary golden apples were lured to their doom by beautiful goddesses.
THE WITCH'S MARKET, besides Echo's article, was also inspired by an incident I experienced many years ago. Once at a concert I was so annoyed by the performer's pretentious style that I stared at her instrument's strings and willed them to break. Surprisingly, a few seconds later one of the strings broke, forcing her to stop in the middle of her performance. Rather than being happy, I was frightened that I might possess some strange power. I never tried it again; the possibility that it might work was too scary, maybe even unethical. Instead I put this experience into THE WITCH'S MARKET.
I follow Confucius' famous advice to respect the spirits but keep them at a distance.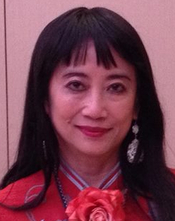 Mingmei Yip believes that one should, besides being entertained, also get something out of reading a novel. Her other novels include: Skeleton Women Femmes Fatales); The Nine Fold Heaven, story of an ex spy and night-club singer undertaking a dangerous journey to look for her long lost lover and son; Peach Blossom Pavilion, story of the last Chinese Geisha; Petals from the Sky — a poignant Buddhist love story about wisdom, compassion, when to persist and when to let go; Song of the Silk Road , an adventure, love story between an older woman and a younger man with a three million award on China's famous, dangerous route.
Besides writing, Mingmei is accomplished in many other fields. A professional player of the Guqin, Chinese zither, she was recently invited by Carnegie Hall to perform in "A Festival celebrating Chinese Culture" program. She had her solo Goddess exhibition at the New York Open Center Gallery to great acclaim and held calligraphy workshops at the City University of New York and the Metropolitan Museum of Art. She has lectured extensively on Chinese art and culture at Oxford University, Columbia University, Beijing University, University of Paris, Vassar College, Williams College.
Mingmei is also a children's book writer and illustrator. Her two children's books are Chinese Children's Favorite Stories and Grandma Panda's China Storybook, both by Tuttle Publishing.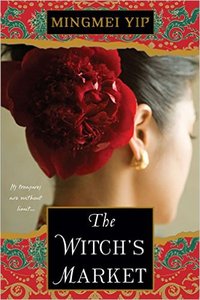 It's treasures are without limit
From the author of Secret of a Thousand Beauties
and Peach Blossom Pavilion comes a beautifully
written novel of self-discovery and intrigue.
Chinese-American assistant professor Eileen Chen
specializes in folk religion at her San Francisco college.
Though her grandmother made her living as a shamaness,
Eileen publicly dismisses witchcraft as mere superstition.
Yet privately, the subject intrigues her.
When a research project takes her to the Canary Islands—long
rumored to be home to real witches—Eileen is struck by the
lush beauty of Tenerife and its blend of Spanish and
Moroccan culture. A stranger invites her to a local market
where women sell amulets, charms, and love spells. Gradually
Eileen immerses herself in her exotic surroundings, finding
romance with a handsome young furniture maker. But as she
learns more about the lives of these self-proclaimed
witches, Eileen must choose how much trust to place in this
new and seductive world, where love, greed, and vengeance
can be as powerful, or as destructive, as any magic.