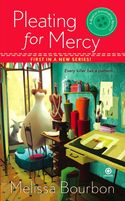 I was in elementary school when my mother taught me to sew. The first big project I made completely on my own, a dress, was hard, definitely, but I am nothing if not dogged and focused when I put my mind to something. The pattern had the option of using two coordinating fabrics which I decided to attempt. I made the whole thing from scrap pieces from my mother's ample collection.  I worked for hours and hours on that dress, even adding buttons up the straight skirt. I was so proud of myself, but what I remember most is how proud my mom was. That was the beginning of a lifelong love of sewing.
Fast-forward thirty-something years. I still sew, but my five kids, my former career as a teacher, and my current career as a full-time writer have zapped my free time. Sewing isn't something I can do everyday or even every week. It's one of those luxuries I fit in every chance I get.So what is a fabric-aholic, craft-lover, creative writer girl to do if she can't actually sew as much as she'd like? Create a cozy mystery series that revolves around sewing, of course.
PLEATING FOR MERCY, the debut book in A Magical Dressmaking mystery series, features fashion designer Harlow Cassidy, a descendent of Butch Cassidy. She's all I need to get my sewing fix. I get to research fabrics, fashion, style, and accessories. I get to write about sewing machines, technique, and notions. And I get to peruse bridal magazines, books on Victorian fashions, and anything else that strikes my sewing fancy. It may not be the same as sitting down at my Pfaff® and creating a color-blocked dress or a quilted tote, but it works. For now.
To celebrate the release of PLEATING FOR MERCY, I'm giving away 3 copies of the book to three commenters!
So tell me, do you have a luxury pastime?
Praise for PLEATING FOR MERCY:
"A crime-solving ghost and magical charms from the past make PLEATING FOR MERCY a sure winner! The Cassidy women are naturally drawn to mystery and mischief. You'll love meeting them! " —NYT Bestselling Author Maggie Sefton
"A seamless blend of mystery, magic, and dress-making, with a cast of masterfully tailored characters you'll want to visit again and again."~Nationally Bestselling Author, Jennie Bentley
"A fun read, and the historical tie-in with Butch Cassidy was a kick. Harlow's character [is] compelling and relatable as a down-to-earth designer and seamstress." ~Fresh Fiction
"Enchanting! Prepare to be spellbound from page one by this well-written and deftly-plotted cozy. It's charming, clever and completely captivating! Fantasy, fashion and a foul play—all sewn together by a wise and witty heroine you'll instantly want as a best friend. Loved it!"~Hank Phillippi Ryan Agatha, Anthony and Macavity winning author
"Cozy couture! Harlow Jane Cassidy is a tailor-made amateur sleuth. Bourbon stitches together a seamless mystery, adorned with magic, whimsy, and small-town Texas charm."~Wendy Lyn Watson, Author of NAL's Mystery a la Mode series
"A who done it that will keep you guessing the whole time." ~PatternReview
Order PLEATING FOR MERCY Now!
Amazon – Print
Amazon – Kindle
Amazon – UK
Visit Melissa at her website http://melissabourbon.com
Melissa on Twitter http://twitter.com/MelissaBourbon
Melissa on Facebook  http://www.facebook.com/AuthorMelissaBourbon.MisaRamirez
And at Books on the House, a website bringing books and readers together!
About the Book:
All the Cassidy women possess special gifts. Harlow Jane Cassidy's is creating beautiful dresses. But she's about to discover secrets in her own family, and another gift—one that can reach beyond the grave…  When her great-grandmother passes away, Harlow Jane Cassidy leaves her job as a Manhattan fashion designer and moves back to Bliss, Texas. But soon after she opens Buttons & Bows, a custom dressmaking boutique in the turn-of-the-century farmhouse she inherited, Harlow begins to feel an inexplicable presence…  One of her first clients is her old friend Josie, who needs a gown for her upcoming wedding. But when Josie's boss turns up dead, it starts to look as if the bride-to-be may be wearing handcuffs instead of a veil. Suddenly Josie needs a lot more from Harlow than hemming a dress. Can Harlow find the real killer—with a little help from beyond.
About the Author:
Melissa Bourbon, who sometimes answers to her Latinaby-marriage name Misa Ramirez, is the marketing director with Entangled Publishing. She is the founder of Books on the House, the co-founder of The Naked Hero and is the author of the Lola Cruz Mystery Series and two upcoming romantic suspense novels (written as Misa Ramirez).
To comment on Melissa Bourbon's blog please click here.