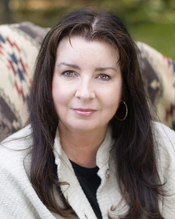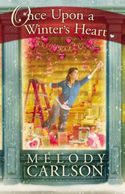 With ice and snow everywhere I look this week, I suddenly appreciate a 'holiday' that celebrates love and romance with cheery perks like red roses, luscious chocolates, frilly cards, pink cupids…well, you get the picture. It kind of warms the heart. And sometimes—especially when life is stressful or disappointing or just plain cold—our hearts need a good warming.
When I wrote my first Valentine's novella, ONCE UPON A WINTER'S HEART, I had no idea that this particular Valentine's Day would be such a bitterly freezing one. I just heard that this winter is the 'worst on record for nearly 100 years.' Now that's cold. So in my new novella, I threw in some winter weather by creating a scene on ice that still makes me smile. My main character Emma is not unlike many young women these days—she's grown somewhat cold-hearted toward love and romance. In fact, when her beloved grandfather, the last of the romantics, passes on Emma concludes that love is dead. And with Valentine's Day around the corner, Emma proclaims herself the Valentine's Day Scrooge. Naturally, that gets fixed by the end of the book.
So how are you feeling about Valentine's Day this year? Has the frosty winter weather or life's circumstances chilled your heart? And, if so, how do you go about warming it up? What do you do when a cheerful pink cupid just doesn't cut it anymore?
Here's what works for me—look for someone who is feeling even more like a Scrooge than you—and find a special way to brighten their day. You can do it in secret or right to their face, but, after it's all said and done, you will probably feel better. It can be as simple as giving someone a genuine compliment. Or taking cookies to a neighbor who's feeling blue. Or offering to baby-sit for a stressed out friend. Or just sending an uplifting email to someone who's struggling.
Like just now, I took a break from my writing (and I'm behind) when a friend called, begging me to walk with her (in the freezing rain on top of our slushy snow). She's grieving the foreclosure of her house today. And as we walked, I listened to her rant and cry and I could even relate to her on some levels because just this week we are selling a home we have loved for two decades. By the time we finished our walk, her spirits were lifted. And when I got home (drenched and soggy) I realized that I felt better too. So if you need to warm your winter's heart, why not look for an opportunity to warm someone else's.
If all you do is love the lovable, do you expect a bonus? Anybody can do that. If you simply say hello to those who greet you, do you expect a medal?. . . You're kingdom subjects. . . . live out your God-created identity. Live generously and graciously toward others, the way God lives toward you. [Matthew 5:48, Message]
Emma Burcelli has given up on romance. Not just because she's suffered over a decade of dating disasters. Not because her parents' marriage ended on New Year's Eve. No, Emma concludes that love is officially dead when her grandfather Poppi passes away, leaving the last true romantic's other half, Nona Burcelli, devastated.
Emma helps by working in the family's bookstore, which Nona insists must be completely decked out in sweetheart décor as Poppi would have done for Valentine's Day. Although Emma feels like a V-Day Scrooge, she quickly learns to enjoy the task with the aid of a handsome volunteer and friend of Poppi's, Lane Forester. As Emma spends time with Lane, sharing stories about Poppi, ice skating in the street, and hanging hearts to the tune of Dean Martin, she reconsiders the possibility that romance is alive.
But just as Emma's heart begins to lift she learns her sister has already staked a claim on Lane's affections. Emma's mother and sister insist Lane only sees her as a future sister-in-law, but Emma can't help wondering if it could be something more.
To comment on Melody Carlson's blog please click here.