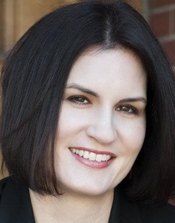 Every great story begins with a "what-if?" What if the world were struck with a horrible plague that killed 99% of the population? (Stephen King's The Stand) What if a boy was trapped in a rowboat with a tiger? (Yann Martel's Life of Pi) What if a man was locked away for a crime he didn't commit? (Alexandre Dumas's The Count of Monte Cristo) The dramatic "what-if," whether it's just an image or the heart of a conflict, is what propels a story forward and makes a novel memorable long after it's over.
As a fantasy writer, "what-if" is a staple of my trade. I've had a love affair with Ireland for as long as I remember: its landscape, its people, its music, history, and culture. But the idea of writing a historical novel set in Ireland, especially during the dark ages, that mythical time of heroic literature, was daunting. So I applied my "what-if" to a fantasy scenario: what if a land existed just like Ireland… but different? Divided by clan and religion, as the real island's bloody history attests, but guided by a prophecy that held out hope for a united future?
And what if all those stories of great warriors, faeries, and curses were not merely myth and folklore, but pure, unadulterated truth?
The result was OATH OF THE BROTHERHOOD, the first book in my fantasy trilogy, Song of Seare. My pseudo-Ireland came alive as the Isle of Seare, home to four warring kingdoms and their ancient secrets. It's a land where the sidhe have a darker, more sinister purpose. Where the fearless, god-like Red Branch Knights from the Ulster Cycle take on new life as a secretive warrior-brotherhood devoted to an ancient prophecy. A land where magic is entwined in every breath and points its users to a higher purpose. And a place where a dismissed and discounted musician could become the hero of an entire people.
In the end, Seare embodied everything I loved about my beloved Ireland: its history, independence, warmth, and magic. By incorporating the real, the mythological, and the purely fantastic, I was able to write an homage to the actual country and give my initial "what-if" a reality in a way that—I hope—will live on long after the pages of the book are closed.
About C.E. Laureano
C.E. Laureano's love of fantasy began with a trip through a magical wardrobe, and she has never looked back. She's happiest when her day involves martial arts, swords, and a well-choreographed fight scene, though when pressed, she'll admit to a love of theater and travel as well. Appropriately, she's the wife to a martial arts master and mom to two boys who spend most of their time jumping off things and finding objects to turn into light sabers. They live in Denver, Colorado with a menagerie of small pets.
Connect with her: Website | Facebook | Twitter | Pinterest
Giveaway to a commenter includes a copy of OATH OF THE BROTHERHOOD plus a Starbucks Card.
To comment on C.E. Laureano's blog please click here.