Danielle: Welcome back to Fresh Fiction, Melonie! We are so happy to have you here to chat about your new book, TOO GOOD TO BE REAL. Where did you get the idea for this novel, which is set at a rom-com resort?
Melonie: I was actually working on a different book proposal for my editor, loosely based on my favorite rom-com, 10 Things I Hate About You. While I was brainstorming the plot points, I started thinking about how much fun it would be to actually get to experience some of the romantic moments in the movie, and other rom-com movies I love: paintball fights and karaoke serenades and kissing in the rain… and then BAM! The idea hit me. Why not? I love the movie Austenland, which is about an estate that provides guests a chance to live in the world of Jane Austen novels… so I decided why not create a resort that offers the same immersive experience for fans of romantic comedies? And thus, TOO GOOD TO BE REAL was born.
I love how there's an awesome girl group at the center of this story—your main character, Julia, brings her friends Kat and Andie along with her for a weekend getaway at the Notting Hill Resort, too. What do you love about writing female friendships?
Within close-knit friendships, characters can be at their most vulnerable and raw – these are the people who know them better than anyone else – sometimes even better than they know themselves. They can confess their deepest secrets, face their darkest fears, work through tangled thoughts, and even see a situation from a fresh perspective. There is a sense of joy and comfort within the protected circle of close friends, providing a connection and camaraderie that I believe can be as important for a happily ever after as the romantic relationship. Plus, best friend banter is just a delight to write – it never fails that the friendships I create on the page feel like real friends by the time the book is done.
Luke is something of an atypical romance hero—he's not the usual ripped Adonis gracing the pages of many of the contemporary romance novels out there right now. But I don't think readers will have any issue falling in love with him right along with Julia! Did you do this on purpose, or did he just "show up" this way while you were writing?
When Luke appeared, he was definitely not the standard romance hero. He showed up tall and lanky and awkward, and at first, I was surprised, but then I realized it made perfect sense. The antithesis of the hot hunky romantic lead, Luke has shades of the Hugh Grant bumbling charm, but in all honesty, Luke is modeled after another Hugh…my husband. I didn't set out to base a hero on my husband, but this book was written during quarantine…and with my husband working from home and around 24/7, some of his qualities seeped into my hero. A few borrowed bits include the height, the self-deprecating sarcasm, the love of retro video games (and retro video game dT-shirts), and the inability to find a shirt with sleeves that fit right (see: height).
There is a bevy of funny animal characters who pop up throughout this book—there's a naughty seagull who steals bikini tops and a bunch of corgis who belong to the owner of the Notting Hill Resort. Where did the ideas for these hilarious animals come from?
Very early on in the drafting process, Clyde the naughty seagull swooped in and stole the scene I was writing. At first, I didn't expect the bird to make an appearance beyond crapping on the meet-cute (yes, literally), but he kept popping back up and I just ran with it. The corgis were a little more planned. Mrs. Weatherfork, the eccentric owner of the rom-com resort, is a conglomeration of Mrs. Wattlesbrook from Austenland, and Dame Barbara Cartland, the infamous romance author known for her colorful wardrobe and collection of Pekingese pups. I've always thought corgis were adorable and full of character, so they were a natural choice. I hadn't intended to have more than one, but Mrs. W had other plans, and wherever she appeared on the page, her parade of corgis followed.
Considering this book is set at a place where people can live out their own rom-com fantasies, one might assume you are a fan of rom-coms (books and movies)! What are a few of your all-time favorite romantic comedies that you think everyone should see or read? And what rom-com do you wish you could visit for a while?
I do enjoy romantic comedies and had lots of fun loading this book with fun nods to oodles of them, from the obvious to the subtle. Topping my list of favorite rom-com films is 10 Things I Hate About You (Shakespeare retellings always win in my book!). I also have a soft spot for the true classics: It Happened One Night and Bringing Up Baby. Honestly, as far as a rom-com I wish I could visit for a while, it's Austenland!
What are your plans this summer? With the world slowly opening back up, are you planning any fun getaways? If you are staying close to home, where would you go on a fabulous summer trip?
It's my 20th wedding anniversary this summer, and originally we'd planned to take a big trip to Scotland and Wales or France, but those plans have been shelved…for now. We might try for a weekend getaway at a romantic B&B, but nothing too big or too far.
What can readers expect from you next?
I've got a novella in a charity anthology that comes out this fall. My story is called "Two Nights to Believe" and it takes place at a certain rom-com resort, giving readers a taste of what it would be like to jump into a Hallmark holiday movie! And fall '22 will see the release of my next rom-com, Too Wrong to be Right (title subject to change) and features Kat, from the trio of best friends in Too Good to be Real, and a new cast of animal characters: JoJo the adopted hedgehog, and a foul-mouthed cockatoo named Seamus.
Rapid Fire Random Questions 
Summer or Winter?: Fall is always my first choice, but if that's not an option, I'll go with summer.
A favorite bookish memory: I loved when those Scholastic book order forms would come from school. It was so fun to skim over all the covers and descriptions. And the best was the times my mom said yes to a book I wanted, and when delivery day came at school and the teacher would pass out the orders, I couldn't wait to spend the bus ride home absorbed in my new read.
If you had to be an animal, what would you be and why?: A falcon. They seem so regal and badass. And I want to fly!
A book you wish was taught in school: In general, I'd like to see curriculum reading lists break away from the same stale titles that are repeated year after year and start incorporating newer stories from diverse voices.
Dusk or dawn?: I love taking walks at dusk, but I'll pick dawn because living on the west side of Lake Michigan, you gotta get up early to catch the sunrise over the lake (and it's always worth it).
A personal indulgence you'll never give up: Coffee (I tried once, NEVER AGAIN)
Do you believe in ghosts?: My head says no but my heart says yes
Vanilla or chocolate?: Chocolate
A movie or TV show that you love but feel like no one else likes: ???
You have a totally free afternoon – no deadlines, no obligations, no Twitter notifications! What do you do?: Full spa treatment: mani/pedi, facial, and massage!
She plans to prove there's a dozen reasons why life isn't like a romantic comedy, only to discover the one reason it is…

While her friends wish for meet cutes worthy of their favorite rom-coms, Julia is ready to give up on love. Swiping right has replaced getting swept off your feet and good old-fashioned romance has become, well, old-fashioned.
A writer for a popular website, love becomes the last thing on her mind when impending layoffs threaten her job. As Julia searches for the ultimate pitch to impress her boss, she stumbles upon a resort offering guests a chance to live out their romantic comedy dreams. Real life dating is so bleak, who wouldn't want to spend a week in a fantasy rom-com world with your best friends?
At the resort, Julia literally falls into a not-quite-meet-cute involving an aggressive seagull and an adorably awkward guy named Luke who is also participating in the rom-com experience. Julia hides the fact she is there to do a story, but Luke harbors a few secrets of his own. Among further encounters with thieving seagulls, a gaggle of corgis, kisses in the rain, and even a karaoke serenade, their feelings deepen quickly. But could their love be real when they haven't been honest about their true identities? Once the fantasy is over, can they have a relationship in the real world?
In her trade paperback debut, Melonie Johnson brings her signature humor, sexy romance, and strong female friendships in this hilarious romantic comedy about finding perfectly imperfect love, Too Good to Be Real.
Romance Comedy [St. Martin's Griffin, On Sale: July 6, 2021, Trade Size / e-Book, ISBN: 9781250768803 / eISBN: 9781250768810]
Adorable Rom-Com Set at a Rom-Com Resort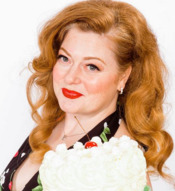 Award-winning author Melonie Johnson—aka #thewritinglush—is a two-time RWA Golden Heart® finalist who loves dark coffee, cheap wine, and expensive beer. And margaritas. And mimosas. And mules. Basically any cocktail that starts with the letter m. A Star Wars junkie and Shakespeare groupie who quotes both Yoda and the Bard with equal aplomb, she met her future husband in that most romantic of places—the mall—when they were teenagers working in stores across the hall from each other. Today, they live happily ever after in the magical land midway between Chicago and Milwaukee with their two redhead daughters, a dog that's more like a small horse, and a trio of hermit crabs.
After earning her Bachelor of Arts magna cum laude from Loyola University Chicago, Melonie taught high school English and Theatre in the northern Chicago suburbs for several years. Now she writes smart and funny contemporary romance and moonlights as an audiobook narrator under the pseudonym, Evelyn Eibhlin.
***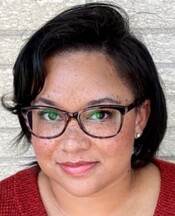 Danielle Jackson Dresser is a contemporary romance author (her debut novel with Berkley will be out in 2022!), avid reader, lackluster-yet-mighty crafter, and accomplished TV binge-watcher.
Once upon a time, she was a publisher publicist and continues to cultivate her love of books and reading by chatting with the best authors in the business as the Editorial Manager of Fresh Fiction and co-host of the Fresh Fiction podcast. Danielle is one of the Boozy Book Broads, a monthly author chat show streamed live on YouTube. She also moderates panels, interviews authors, and hosts a book club at Love's Sweet Arrow, the romance-focused independent bookstore.
Danielle lives in Chicagoland with her very own romance hero husband, darling daughter, and two tempestuous cats. Follow her on Twitter and Instagram, @dj_dresser.