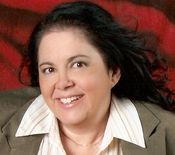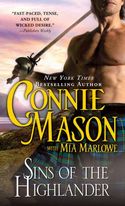 What's so special about a guy in a kilt?
Getting him out of it, of course. In SINS OF THE HIGHLANDER, "Mad Rob" MacLaren peels off his own plaid to take a bath after a sleepless night. The poor guy has had to flee from his pursuers, sleep in a cave without a fire, and fight off a wolf-pack. Of course, he brought all this trouble on himself when he abducted his enemy's bride from the altar. To make matters worse, he's having difficulty thinking of Elspeth Stewart as simply a means to a vengeful end.
Exclusive Excerpt from SINS OF THE HIGHLANDER:
Rob stripped off his filthy clothes on the loch's shore and left them in a pile as he walked to the water's edge. He squatted down and splashed himself all over, sucking a breath over his teeth at the cold.
Normally, he'd have skipped a bath in this weather, but Elspeth Stewart was getting clean somewhere inside Angus Fletcher's cluttered wattle-and-daub home. He didn't want to smell like a boar pit beside her.
Rob scooped out a dollop of soap from the stone jar Angus had loaned him and smeared his whole body with it. He even gingerly sudsed up his hair, working out the matted blood and hoping not to reopen the gash left when he knocked himself out in that fall against a log.
The savory smell of richly spiced sausages frying wafted out to him.
He turned around to look at the house. Elspeth was behind one of the vellum-covered windows. Did she wonder where he was? If it had been high summer and the windows were left uncovered to let in a breeze, would she have peeked out at him as he stood naked as God made him on the shoal?
He soaped up his groin. Just the thought that Elspeth might spy on him at his bath made part of him happier than it ought to be considering the temperature.
A cloud covered the sun and the air cooled even more.
Rob turned and dashed into the loch, the chilly water snatching his breath as he dunked under the waves to rinse off the tallow soap. Then he splashed back out to the shore and rubbed his body briskly with the cloth Angus had lent him.
He sincerely hoped Elspeth wasn't looking now. After a November dip in Loch Eireann, no man was at his best.
"Ye half-wit," he mumbled to himself as he pulled the fresh thigh-length shirt over his head. It was an old one of Fletcher's so it was a tad long and worn thin in spots, but at least it was clean.
Why should he care whether she looked or no'? She was his prisoner, not his sweetheart. If he muddled that fact, he was destined for trouble.
***
And of course, Rob and Elspeth are destined for plenty more trouble, but Connie Mason (my co-author) and I feel a "happily ever after" has to be earned. We had great fun writing the Highlander's exploits and hope you'll love them as much as we do. If you'd like to learn more, please visit miamarlowe.com .
While you're poking around MiaMarlowe.com, Mia hopes you'll enter her contest. The Grand Prize is a KINDLE and the drawing will be held on January 30th!  You can also connect with Mia at @Mia_Marlowe and Facebook .
Sourcebooks is offering 2 random commenters the chance to win SINS OF THE HIGHLANDER here on FreshFiction today. Just leave a comment or question for Mia. She'll get the conversational ball rolling:
What is your "must have" trait in a hero?
SINS OF THE HIGHLANDER BY CONNIE MASON & MIA MARLOWE – IN STORES JANUARY 2012
Abduction
Never had Elspeth Stewart imagined her wedding would be interrupted by a dark-haired stranger  charging in on a black stallion, scooping her into his arms, and carrying her off across the wild Scottish highlands. Pressed against his hard chest and nestled between his strong thighs, she ought to have feared for her life. But her captor silenced all protests with a soul-searing kiss, giving Elspeth a glimpse of the pain behind his passion—a pain only she could ease.
Obsession
"Mad Rob" MacLaren thought stealing his rival's bride-to-be was the prefect revenge. But Rob never reckoned that this beautiful, innocent lass would awaken the part of him he thought dead and buried with his wife. Against all reason, he longed to introduce the luscious Elspeth to the pleasures of the flesh, to make her his, and only his, forever.
With two clans against them burning for battle, they must find a way to join together—body, breath and soul. Or both will be made to pay for the Sins of the Highlander.
ABOUT THE AUTHORS
Connie Mason is a New York Times bestselling author of more than 50 novels. She was named Storyteller of the Year in 1990 and received a Career Achievement Award from RT Book Reviews in 1994. She currently lives in Florida. Mia Marlowe is a highly acclaimed new voice in romance whose debut novel released in Spring 2011 from Kensington. She lives in Boston, MA. Together, they are working on a new Regency romance series for Sourcebooks Casablanca, the first of which will be in stores in early 2013. For more information, please visit http://www.conniemason.com/, http://miamarlowe.com/ and follow Mia on Twitter @Mia_Marlowe.
To comment on Mia Marlowe's blog please click here.