My two favorite elements of historical romances are the settings and the heroes. The settings, because there is nothing like escaping into a different time and place. I love immersing myself in Regency and Restoration England, and of course, the Scottish Highlands.
Now the heroes *happy sigh*. They just make the romance, don't they? When it comes to John, the hero in my new book, HOW TO ENSNARE A HIGHLANDER, I combined two of my favorite types of heroes. Highlanders and Highwaymen. There's just something about those highwaymen…well, the Robin Hood types at least. Gallant, hearts of gold, but with a healthy hint of danger that gives those handsome rogues their alluring edge. Add that sexy Scottish brogue and a kilt flapping in the wind, and I'm sold.
Here are my Top 5 qualities for a lovable Highland rogue.
A heart of gold – if we're talking highwaymen, then I'm definitely more for the Robin Hood type. Sure, he might rob your carriage, but he's doing it to help the poor and is more likely to charm your socks off than steal them. Or, while he steals them, perhaps. 😉
A dangerous side – I'll admit it, I'm a sucker for a bad boy. As long as that bad boy has a reason for being bad (i.e. a tortured past) and is basically a good guy deep down (heart of gold), then being a little dangerous can be sexy. Which, I suppose, is a given when you're talking about highwaymen.
A brain – I'm all for a handsome face, but my hero needs to have some brains to back up the good looks or it just doesn't work for me.
A protective side – I like to write (and read) about strong heroines who can fight their own battles. But there's nothing wrong with having a strong man at her side who will protect her at all costs.
A romantic side – again, no matter what his other qualities, a guy who wants to please his lady with a few flowers or by wrapping his plaid around her when she's cold is top on my list.
What do you love in your romance heroes?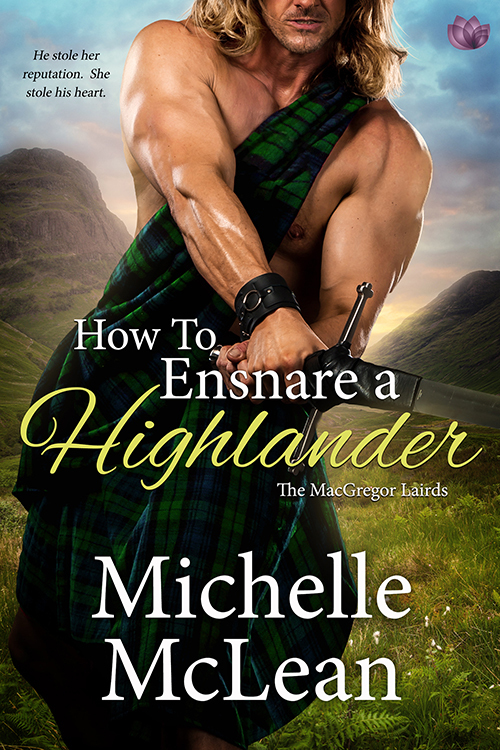 When Lady Elizabet Harding's family is targeted by the notorious Highland Highwayman, she finds herself wounded and an unwelcome guest of the charming outlaw who'd ruined her reputation earlier that day. Elizabet only wants to get even for her family's downfall, but the more time she spends with the scoundrel, the more complicated her feelings become.
By day, Laird John MacGregor graces the court of Charles II. By night, he exacts revenge on his enemies – one of whom is betrothed to the fiery heiress who has, quite literally, fallen into his arms. The daughter of one enemy and promised to another, Elizabet should be the last person John wants. Yet even as she exasperates him, she is all he has ever desired for himself. When her life is put in danger, he will do anything necessary to protect the women he never expected to love…even if it means they cannot be together.
Romance Historical [Entangled Scandalous, On Sale: February 12, 2018, e-Book, ISBN: 9781640634787 / eISBN: 9781640634787]
Romance and non-fiction author Michelle McLean spent 98% of her formative years with her nose in a book indulging in her love of reading and research. She has a B.S. in History, a M.A. in English, has insane eclectic tastes, and tends to be a bit of an organized mess with an insatiable love of books.
When Michelle's not editing, reading or chasing her kids around, she can usually be found in a quiet corner working on her next book. She resides in PA with her husband and two children, an insanely hyper dog, and two very spoiled cats.