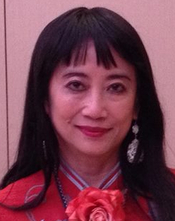 A few readers, after having read my two novels, asked me a similar question, "Is it difficult to write about a prostitute then a nun?"
My answer was no. Because prostitute or nun, they are women and human beings.
I love to write about women, especially heroines who are on the verge of drastic transformation — their courage, struggles, and triumphs.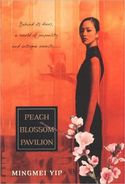 In my debut novel Peach Blossom Pavilion, story of the last Chinese courtesan, or geisha, Precious Orchid is tricked into a prostitution house after her father is executed for a crime he had not committed and her mother banished to a Buddhist nunnery,
Precious Orchid finds herself abandoned in Peach Blossom Pavilion, an elite house of prostitution.
At first, life at Peach Blossom Pavilion feels like a dream to the thirteen year-old. Precious Orchid enjoys her poetry, music and calligraphy lessons and feels herself thriving. But all too soon she discovers that this is merely a prelude to her role of pleasing customers, including China's most powerful men.
The novel relates her survival and ultimate triumph: how she escaped from the prostitution house, reunited with her long lost mother, avenged her father, finally finding true love and starting a new life in America.
The Chinese courtesan was a glamorous figure in pre-communist China. Precursors to the more familiar Japanese geisha, mingji, were high-class prostitutes prized for their skills in music, calligraphy, painting, poetry – and the arts of the bed chamber. Peach Blossom Pavilion, a novel seeking to revive the splendors and miseries of a way of life that has passed into history, is about the last surviving Chinese courtesan.
As the Chinese say that water, the softest element, is the most powerful. My heroines use their flexible, water-like yin nature to overcome whatever perils they face. The ability of women to rise above their oppressive circumstances is celebrated in Peach Blossom Pavilion.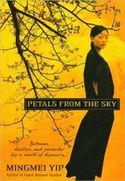 My new novel Petals from the Sky is a love story about a young, aspiring Buddhist nun set in Hong Kong, Manhattan and Paris. It follows the success of my debut novel Peach Blossom Pavilion. Petals from the Sky has a quite different protagonist. Meng Ning faces the heartrending dilemma of having to choose between the spiritual life she's been cultivating for years and the sensuality she suddenly discovers. This poignant love story is inspired by my own life growing up with Buddhist nuns and my one-time aspiration to become one.
Watching her parents' relationship disintegrate, even though it was based on love, Meng Ning decides to live the serene life of a nun to avoid the messiness of dealing with men. When the young Meng Ning declares that she wants to be a Buddhist nun, her mother is aghast. To her, a nun's life means only deprivation – "no freedom, no love, no meat." But to Meng Ning, it means the chance to control her own destiny, and living an artistic life far from her parents unhappy union.
Meng Ning spends years studying in Paris, disdaining men, and preparing to enter the nunnery. But when she joins a retreat to test her karma to be a nun, her sensuality is aroused for the first time when a fire breaks out and she is carried to safety by an American doctor. The unexpected intimacy with an exotic, handsome stranger forces Meng Ning to decide between a life of non-attachment and one of passion.
Meng Ning's life becomes even more complicated when her nun mentor attempts to lure her back to the temple just after Meng Ning meets the doctor's sinister former fiancée and is nearly seduced by his gorgeous best friend.
Growing up with Buddhist nuns, I was attracted not only to these remarkable women's charitable work and their dealings with the rich and powerful, but also to exotic Buddhist ideas like enlightenment, non-attachment, karma, and nirvana. So in my youth, before falling in love with a man, I fell in love with a philosophy.
My hope is that after reading the book, readers will be awakened to the realization that true love, like any other worthy pursuit in life, needs constant, tireless cultivation.
My new novel is
Song of the Silk Road, a romantic adventure set abroad on the famous Silk Road. It is a love story between an older woman and a younger man — with the lure of a three million reward. Song of the Silk Road will come out in March, 2011 by Kensington Books.