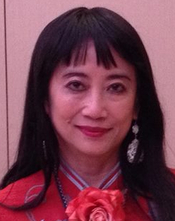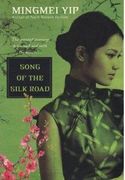 Though I did not consciously plan it this way, I find I like to write about brave women who live unconventional lives, not always by their own choice.
My new novel  SONG OF THE SILK is a romantic adventure on China's fabled route and the Taklamakan Desert with the lure of a three million dollar reward.
I owe my this novel to a brave and unconventional writer — and a dream.
A Taiwanese woman who called herself Echo was one of my favorite  authors. She was much loved by Chinese readers but, sadly, her work has never been translated into English.
In the seventies, her descriptions of her adventures with her husband in the Sahara Desert captivated many readers, including myself. One episode – I won't give it away here – is based on something that happened to her husband.
Inspired by her, I always wanted to write about a young woman's adventures in the desert. I had thought of drawing on Echo's life for my desert novel, but then found my imagination led me in a different direction. A lifelong fascination with the romantic history of the Silk Road was brought to life when I traveled there a few years ago with my husband, going through ruined cities and venturing up sheer cliffs into now abandoned caves that once housed thriving spiritual communities.
Then I had a dream.
In my dream a young woman receives a letter from an aunt whom she had never known existed. The niece was told to undertake a long journey in China, retracing the same routes the aunt had taken, meeting the same people, and doing things the aunt had done. The niece would receive a big sum of money, if she successfully carried out all the tasks – and if she survived.
I remember the dream, but not when it came to me. The young woman was not me but she had a strong personality and I knew she wanted me to give her a voice. The result is this adventure and love story, SONG OF THE SILK ROAD.
On this treacherous Silk Road journey, the protagonist Lily Lin encountered many interesting characters including a monk whom she seduced, a blind fortune who predicted her future, a younger man who turned out to be her true love, and an Uyghurs healer who loved and protected her. Upon learning his tragic story Lily discovered she could open her yin eye to see beings from the realm of the dead.
Early on, while bathing nude in a hidden garden pool, Lily was spotted by Alex Luce, a man eight years her junior. Still attached to her married lover, Lily foolishly failed to realize that Alex is her true love and tried all sorts of stratagems to ditch him as he pursued her along her thousand mile journey. Only when Alex almost drowned in a lake trying to retrieve her necklace did Lily recognize the depth of his love for her….
I am very happy that Publisher's Weekly describes my novel as "once modern and traditional…Yip's  modern heroine's quest is filled with unique companions, unforeseen dangers, unexpected joys, and bitter sorrows…part epic, part coming-of-age story, part modern fairy tale…"
Bio
Mingmei's new novel is SONG OF THE SILK ROAD, (Kensington, April 2011). Her debut novel PEACH BLOSSOM PAVILION (Kensington, 2008), story of the last musician courtesan of China, has received numerous favorable reviews and is now in its fifth printing.
Her second novel is PETALS FROM THE SKY, (Kensington, 2010) a Buddhist love story, which Booklist describes as "a serious, engaging story of faith, devotion, and the commingling of cultures."
Mingmei's other work in English is CHINESE CHILDREN'S FAVORITE STORIES (Tuttle), of which she both wrote and illustrated. She is now working on her second children's book.
In Hong Kong, Mingmei was a columnist for seven major newspapers. She has appeared on over sixty TV and radio programs in Hong Kong, Taiwan, China and the US.
To read an excerpt of Song of the Silk Road and see Mingmei's other books, paintings and calligraphy, and listen her music, please visit: www.mingmeiyip.com
To comment on Mingmei Yip's blog please click here.