I'm not entirely certain where my fascination with old houses – mansions, really – began. The house I grew up in was built for my parents and me, and I was about eighteen months old when we moved into it. Our house was small: two bedrooms, one bathroom, kitchen, den, and living room with an attached carport. Nothing antebellum or mansion-like about it, but I loved growing up there.
Most likely, the fascination started with Nancy Drew – the same way my love of mysteries did. Nancy's adventures thrilled me, and several of them take place in old houses, some of them antebellum mansions. The Hidden Staircase, The Sign of the Twisted Candles, and The Secret in the Old Attic feature settings that fit the bill. (Three of my favorite books in the series, by the way!) Every old dwelling has secrets to tell, and Nancy always managed to winkle them out.
I imagined what it would be like to live in a house that had multiple stories, features like turrets or secret rooms or hidden passages, and a long connection to the past. (I have always wanted a turret of my own but sadly I don't think I'll ever have one.)
Nancy got me started and later, when I discovered romantic suspense novels, many of those were set in mysterious castles or Elizabethan manors or Victorian mansions. I read as many as I could find, and one of my all-time favorites, Barbara Michaels (aka Elizabeth Peters) wrote some wonderful books in which the houses were as important as the human characters in the story.
When I created the Ducote Sisters, who first appeared in OUT OF CIRCULATION, the fourth Cat in the Stacks book, I made them owners of an antebellum mansion, Riverhill. An important scene in the book takes place at Riverhill, and I loved writing it. When the time came for the sisters to appear in their own series, I decided that each book would involve a grand old mansion of some sort. That holds true with FIXING TO DIE, the fourth book in the series. This time the setting is a house named Cliffwood, situated in Natchez, Mississippi – known as one of the most haunted towns in America.
Cliffwood is reputed to be haunted, like other antebellum mansions in Natchez, but Miss An'gel and Miss Dickce think human hands are at work making mischief. Will they be able to uncover the truth and unmask the villain? Or will they end up believing in ghosts before it's all over?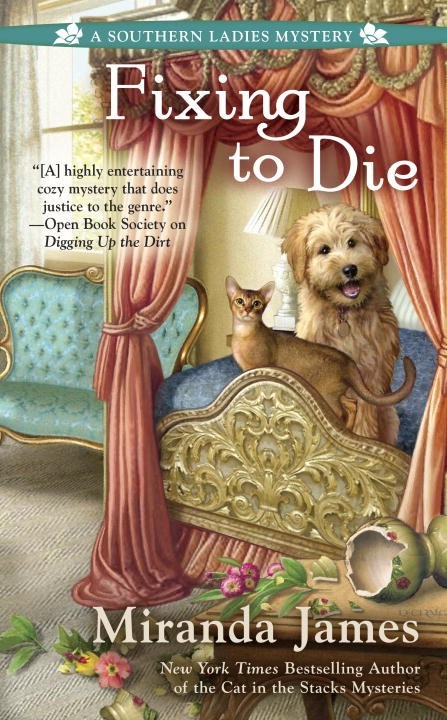 The New York Times bestselling author of the Cat in the Stacks Mysteries and Digging Up the Dirt returns with the latest Southern Ladies Mystery…
It's autumn down south, and An'gel and Dickce Ducote are in Natchez, Mississippi, at the request of Mary Turner Catlin, the granddaughter of an old friend. Mary and her husband, Henry Howard, live in Cliffwood, one of the beautiful antebellum homes for which Natchez is famous.
Odd things have been happening in the house for years, and the French Room in particular has become the focal point for spooky sensations. The Ducotes suspect the ghostly goings-on are caused by the living, but when a relative of the Catlins is found dead in the room, An'gel and Dickce must sift through a haunted family history to catch a killer.
Mystery Cozy [Berkley Prime Crime, On Sale: October 3, 2017, Mass Market Paperback / e-Book, ISBN: 9780399584770 / eISBN: 9780399584787]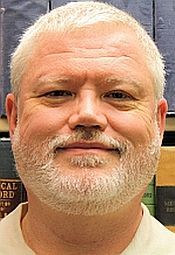 Miranda James is the pseudonym of Dean James, a seventh-generation Mississippian recently returned home after over thirty years in Texas. A mystery fan since the age of ten, he wrote his first novel at the ripe old age of twelve. The only copy of The Mystery of the Willow Key vanished years ago, but since it was highly derivative of the Nancy Drew and Trixie Belden mystery series, that's probably a good thing.
Currently a librarian in the Texas Medical Center in Houston, Dean has published articles on topics in library science, the history of science/medicine, and mystery fiction.
Dean lives with two young cats, thousands of books, and thinks frequently about killing people – but only in the pages of fiction.