Kisses. Hot, steamy, sweet, funny, chaste. They come in a hundred different varieties, and I love reading about them all. Who doesn't? (Well, my husband, for one, but I'd guess he's in the minority in this audience!)
However, as much as I enjoy reading "the kissy bits," as a good friend of mine labels these moments, I certainly don't write them all. That's because I write young adult fiction, and kissing serves a different purpose here than in adult romances. In particular, kisses are an opportunity for me to take my character on an emotional journey of "firsts," and my goal is to pull the reader along for that ride.
Does that mean that kisses in YA fiction are any less swoony or emotional? I hope not! Instead, I'd argue that although kisses in YA novels have a different feel, they can be just as enjoyable.
Exhibit A. Callie and Logan's first kiss in FORGET TOMORROW, where I focus on her feelings rather than the mechanics:
His lips touch mine, as light as a moth dancing on a breeze. I'm lost. In school, we learned about the butterfly effect, that something as insignificant as the flapping of insect wings could cause a hurricane on the other side of the world. Well, that's me. There's a storm inside me, swirling violently, threatening to sweep me away. For once I would be happy to drown.
Exhibit B. Jessa and Tanner's first kiss in REMEMBER YESTERDAY, where Jessa's uncertainty and chaotic emotions color her experience:
I kiss him back. I'm not entirely sure how this is done, but I move my mouth against his. I run my hands up his back, over his neck, and into his soft, silky hair. Am I doing this right? Does he like what I'm doing? Does he feel what I feel —
Oh. Dear. Fates. He's kissing me more assuredly now, and I didn't know. I didn't know it could be like this. He tastes like fresh mint. I'm flying down a ramp. My head's spinning in the air. I don't know which way is up.
Exhibit C. Olivia and Ryder's first kiss in SEIZE TODAY, where Olivia contemplates what the kiss is not in order to underscore the significance of what it is:
His eyes intent on mine, he catches my lower lip between his teeth. "Do you like it?"
Do I like it? What kind of question is that? I've tasted every emotion in our world. I know the sorrow a mother feels when she clasps her deceased baby to her chest. I know the pride of a gold-star athlete when he stands on a podium and accepts North Amerie's highest honor. I know the rage that silences the heart of a murderer as he cuts short another's life.
I even know kisses — hot, frenzied, passionate, fumbling, sweet, aching, innocent kisses. I've seen them all in other people's future, thousands of kisses, millions of kisses, as varied as the pathways themselves.
And yet…and yet…I've felt nothing like kissing Ryder. Even the vision of this moment itself.
So, yeah, I like it. It scares me how much I like it.
Of course, the first kisses among the couples in the Forget Tomorrow series are just a mere sample. I encounter great kisses in YA novels on a regular basis.What do you think? Are kisses in YA fiction just as swoony — or do they pale in comparison to their adult fiction counterparts?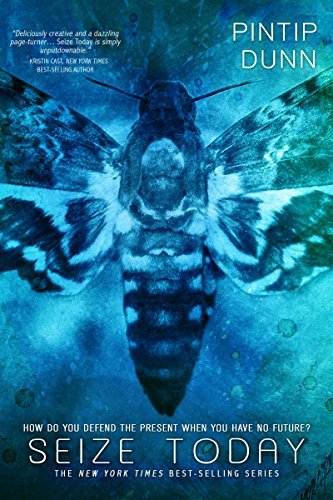 Seventeen-year-old Olivia Dresden is a precognitive. Since different versions of people's futures flicker before her eyes, she doesn't have to believe in human decency. She can see the way for everyone to be their best self-if only they would make the right decisions. No one is more conflicted than her mother, and Olivia can only watch as Chairwoman Dresden chooses the dark, destructive course every time. Yet Olivia remains fiercely loyal to the woman her mother could be.
But when the chairwoman captures Ryder Russell, the striking and strong-willed boy from the rebel Underground, Olivia sees a vision of her own imminent death…at Ryder's hand. Despite her bleak fate, she rescues Ryder and flees with him, drawing her mother's fury and sparking a romance as doomed as Olivia herself. As the full extent of Chairwoman Dresden's gruesome plan is revealed, Olivia must find the courage to live in the present-and stop her mother before she destroys the world.
Young Adult Fantasy [Entangled Teen, On Sale: October 3, 2017, Hardcover / e-Book, ISBN: 9781633758186 / eISBN: 9781633758193]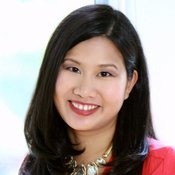 When her first-grade teacher asked her what she wanted to be when she grew up, Pintip replied, "An author." Although she has pursued other interests over the years, this dream has never wavered.
Pintip Dunn graduated from Harvard University, magna cum laude, with an A.B. in English Literature and Language. She received her J.D. at Yale Law School, where she was an editor of the YALE LAW JOURNAL. She is a 2012 Golden Heart® finalist and a 2014 double-finalist. She lives with her husband and children in Maryland.